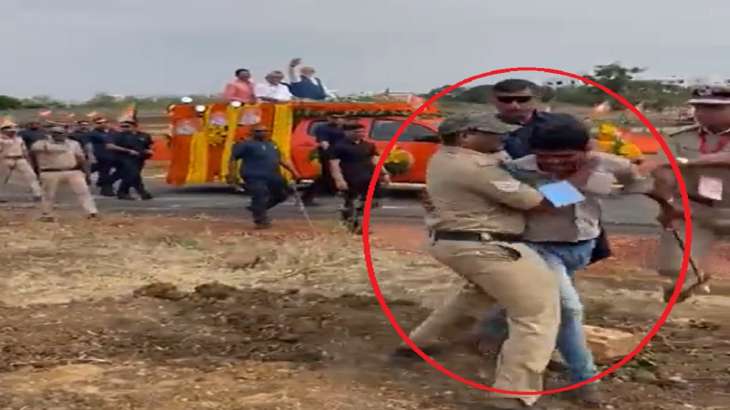 In another incident of a security breach, a man came very close to Prime Minister Narendra Modi during his roadshow in Karnataka's Davangere district on Saturday.
According to the visuals, the man can be seen coming "very close" to the Prime Minister when the vehicle carrying the BJP leader was moving at a very slow pace. However, the security officials reacted swiftly and hindered his movement. 
This is not the first time 
It is worth mentioning the state is scheduled to hold the next Assembly elections this year and the Prime Minister was there to address multiple mega-events. The incident occurred when the PM was performing a roadshow. Earlier today, he inaugurated the newly built Bengaluru Whitefield metro line. 
This was not the first time when the PM faced such a situation during his roadshow. Earlier last year, his security was compromised when he was moving for a rally in Punjab. 
Chief Minister Bhagwant Mann has decided to initiate disciplinary proceedings for the major penalty against Sidharth Chattopadhyay, the then DGP Punjab, Inderbir Singh, the then DIG, Ferozepur Range and Harmandeep Singh Hans, the then SSP Ferozepur over the Prime Minister Narendra Modi's security breach in Punjab in January 2022, said an official letter by the Government of Punjab.
Also Read: PM Modi set to flag off Northeast's first Vande Bharat Express in Assam on April 14