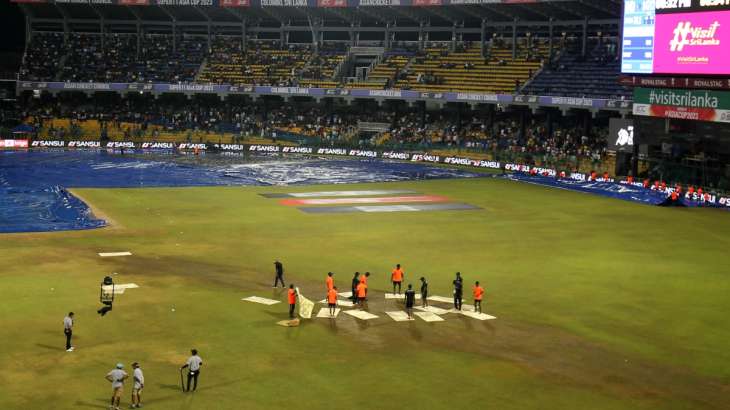 The ongoing Asia Cup continues to be a disappointing event with all the rain happening at the Sri Lankan venues, Pallekele and now Colombo. It seems all the rain in Sri Lanka is happening in India's matches and it came to haunt the Men in Blue once again in the high-octane clash against Pakistan in the Super Fours on Sunday, September 10. The forecast wasn't as encouraging but the heavens showed some mercy for a couple of hours with 24.1 overs of play getting possible before rain came.
The first downpour was really heavy, catching the groundsmen too by surprise. The rain stopped after half an hour but since it was heavy, the puddles were formed and the patches took nearly two hours to be dried. After a couple of inspections and the use of mats, sand and makeshift fans, it seemed like the game was finally resuming only for the rain to come again. The rain forced the match to reserve day, which will resume from where it was left off with a full 50-over game to be played.
However, the forecast isn't as encouraging enough on Monday, September 11 as well. As per Accuweather, there is a 99 per cent probability of precipitation while weather.com shows a 90 per cent chance of rain.
Accuweather shows a 99 probability of rain during daytime with a 59 per cent probability of thunderstorms. The chances of rain reduce to 77 per cent in the evening but there's no guarantee that interruption won't be there. If the hourly forecast is anything to go by, things don't look that good and a shortened game is more than a likely possibility.
If the rain washes out the reserve day as well, both teams will share a point each and Pakistan will inch one step closer to a spot in the Asia Cup final. The question will surely be raised on the Asian Cricket Council for sticking with Colombo as the venue with the option of shifting to Hambantota available when the doubts were raised at the start of the week with poor forecast.