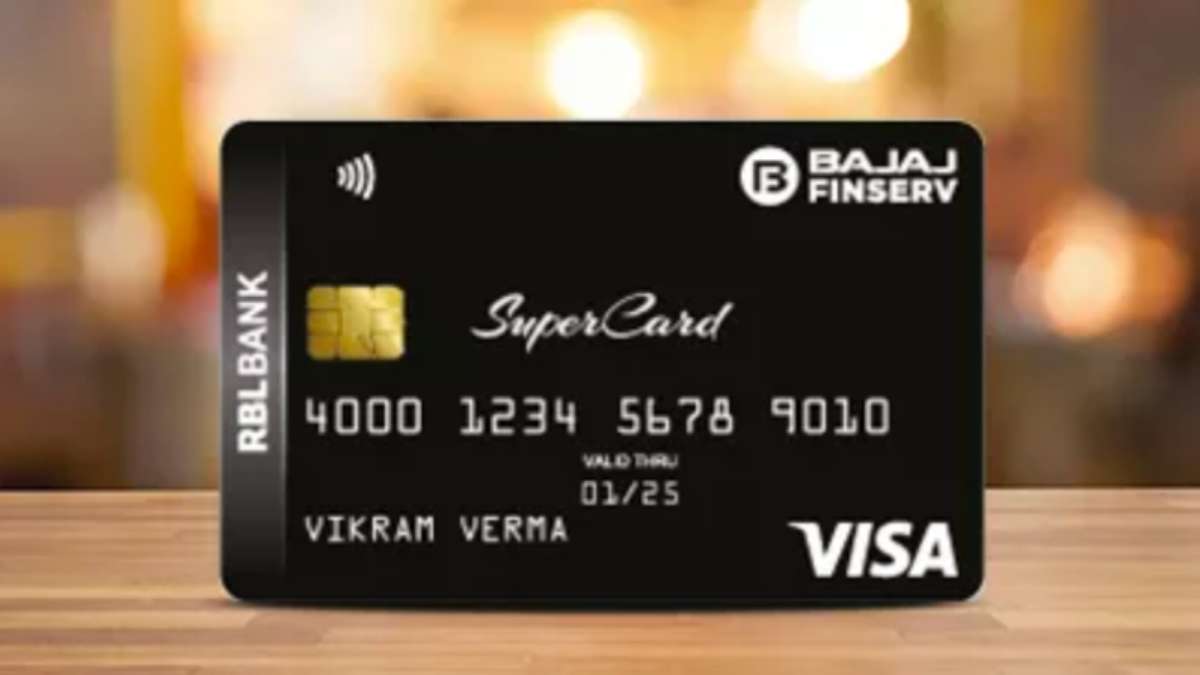 Credit card usage in India is at an all-time high. According to data from the RBI, credit cards are highly preferred for online shopping payments. Many factors could be attributable to this, including the cashback and discounts offered on credit cards.
With scores of options available, consumers are highly likely to opt for credit cards which can subsidise their spends. This can be in the form of offers, gift vouchers, surcharge waivers and more. Bajaj Finserv and RBL Bank's co-branded SuperCard caters to this need, while also providing low interest rates and other unique benefits. 
A key factor differentiating these credit cards is their exclusive rewards program. Keep reading to know more.
Bajaj Finance RBL Bank SuperCard: India's First SuperCard
Known as India's first SuperCard, this Bajaj Finance RBL Bank SuperCard offers 4-in-1 benefits. With interest rates going up to 3.99% per month, it offers reward points for every transaction. As a loan card, it lets you convert your cash limit into a personal loan for 3 months.
Any transaction above ₹3,000 can be converted into an EMI, while as a cash card it allows you to withdraw 50-day interest-free funds.
How to Get a SuperCard?
To enjoy its 4-in-1 usage and other value-added benefits, all you need to do is apply for RBL Bank credit card. You can choose to apply via RBL Bank or Bajaj Markets on their respective websites or mobile apps.
Bajaj Finance RBL Bank SuperCard's Reward Points 
The exclusive loyalty program for Bajaj Finance RBL Bank SuperCard holders offers discounts on shopping and travel, fuel surcharge waiver, free movie tickets, airport lounge access and much more. It also offers:
Welcome bonus reward points on card activation

Reward points on utility bill payments

Milestone reward points on annual spends
Overall, with these cards, you have the opportunity to save up to ₹55,000 in a year. There are multiple variants of Bajaj Finserv RBL Bank SuperCard variants, each with unique benefits. 
Here are a few examples of the benefits and savings on popular SuperCards.
          1. Bajaj Finance RBL Bank Binge SuperCard 
The annual membership fee for this is ₹999 + GST, with which you can get annual rewards worth ₹10,000.
Reward Points and Benefits

Monetary Value (₹)




Welcome Bonus: 


4,000 reward points 

1,000




Milestone Reward:

Spend ₹1 Lakh in a year to enjoy a waiver on annual fees

900




12 reward points for every ₹100 spent on all online purchases

2,400




2 complimentary domestic lounge access per year

2,000




BookMyShow Offer:

1+1 movie ticket once a month

2,400




Fuel surcharge waiver of up to ₹100 per month

1,200




Total Annual Benefits 

10,299









         2. Bajaj Finance RBL Bank Platinum Choice SuperCard
The annual membership fee for this is ₹499 + GST, with which you can get annual rewards worth ₹3,000+. 
Reward Points and Benefits
Welcome Bonus: 

Up to 2,000 points
Spend ₹50,000 and above to get a waiver on next year's annual fees
2X rewards on online spends
10% discount on movie tickets
Fuel surcharge waiver of up to ₹1,200 every year at any fuel station throughout India
5% cashback when you make any down payment at any of the Bajaj Finserv's partner stores
How to Redeem Your Bajaj Finance

RBL Bank SuperCard Reward Points
The reward points gained through Bajaj Finance RBL Bank SuperCards cannot be converted to cash. However, once you rack up a good number of reward points, you can redeem these on the RBL Bank's website. There is no minimum point requirement to start redeeming. 
Follow these steps to claim your reward points:
Log in to the RBL Bank website's Rewards page using your username and password.

Select your desired product or service. To pay, click on 'Redeem Points' and select the required number of points to be redeemed.

Key in the OTP received on your registered phone number to complete your purchase.
Five Ways to Maximise the Benefits of Your Reward Points:
You can redeem your reward points on the RBL Bank's website based on your needs. Here are a few useful ways to do so:
Flight and Hotel Bookings: While planning your travel, you can accumulate the reward points through your RBL credit card reward points feature to spend on flight and hotel bookings. Blackout dates and seat restrictions are not applicable.

Online shopping: You can use the reward points to get cashbacks and discounts on your online shopping. 

Gifts: You can get gifts home delivered from a customised curated gifting collection.

Vouchers: You can redeem your points as a voucher and use it across various categories like lifestyle, grocery, and more.

Mobile Recharge: You can top-up your mobile balance with the redeemed points, anytime and anywhere. 
To conclude, the rewards program makes these Bajaj Finserv RBL Bank credit cards stand out among the hundreds of available options. Its 4-in-1 usage is also a coveted feature. If you are in the market for a credit card, make sure to read and understand all its features before committing. 
(Disclaimer: This is sponsored content. The liability for the article solely rests with the provider. The content has not been verified by India TV channel and IndiaTVNews.com)