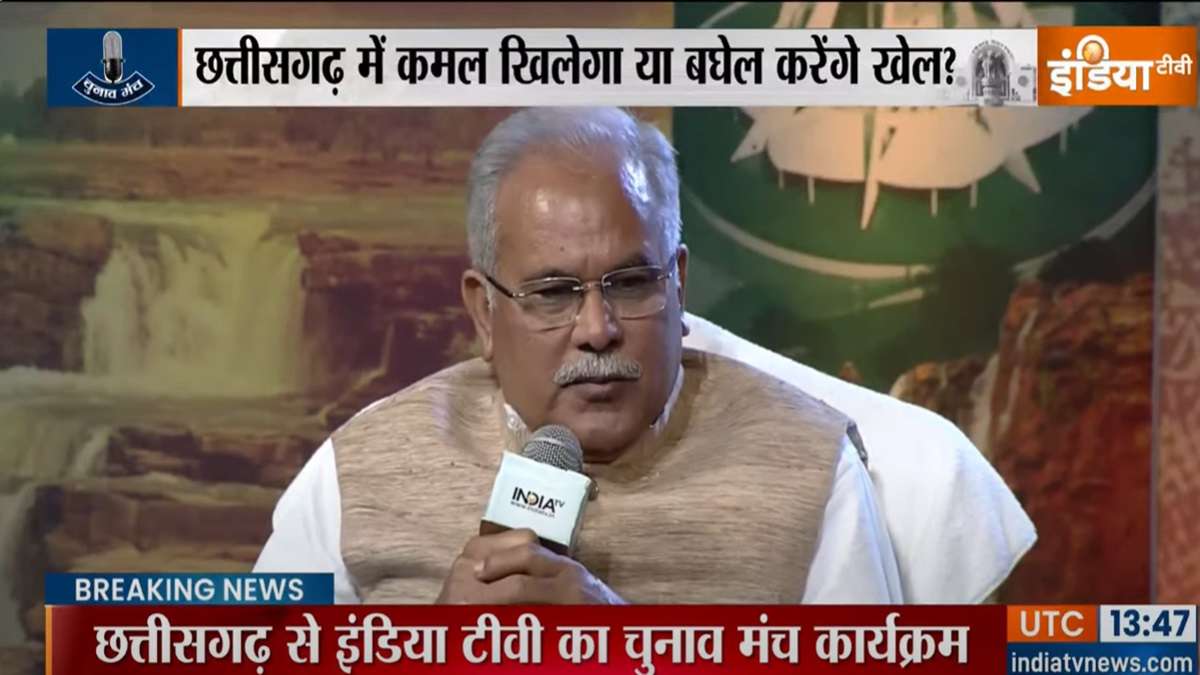 Chhattisgarh Assembly Election 2023: Chhattisgarh Chief Minister Bhupesh Baghel said here tonight that he was confident of Congress retaining power in next month's assembly elections with a bigger majority by winning 75 out of a total of 90 seats. 
Replying to questions at the day-long India TV Chunav Manch in Raipur, Baghel claimed, there was tremendous enthusiasm among voters for Congress. "This time our victory will be bigger compared to the last one five years ago…..Let ED, I-T carry out as many raids as they want, we shall win 75 seats compared to 68 last time", the chief minister said. 
Baghel hit out at Modi government and alleged that it was using ED and I-T for "political vendetta".  "Right now in different towns and cities of Chhattisgarh, ED people are moving around like stray dogs that move around in localities", the chief minister said. (jitna mohalley me kutte ghoomte hain, unse zyada yeh log ghoom rahe hain) 
On the Mahadev betting app scam in which several hundred crores of rupees was laundered, the chief minister said, it was Chhattisgarh police which arrested more than 450 people and seized laptops and gadgets. 
"We even got Look Out Circular (LOC) issued against the operators, but instead of arresting the owners based outside India, ED raided my OSD and political advisor (Vinod Verma). I have information that the gaming app operators had connections with some top BJP leaders. The Centre should have taken action against the gaming app operators. They have not even banned the app", Baghel said. 
The chief minister alleged that the Mahadev gaming app began in 2017 during former CM Raman Singh's rule. "If ED arrests anybody, nobody can get bail for at least two years, because the legal provisions of money laundering law are very stringent, unlike the IPC provisions. Even lower courts and high courts cannot grant bail, and recently the Supreme Court had to make observations on this matter", Baghel said. 
On ED filing a chargesheet alleging there was Rs 2,161 crore excise loss to exchequer and huge amount of money  was given to bureaucrats, politicians and other individuals in the liquor scam in Chhattisgarh, the chief minister replied: "The excise policy was made during former CM Raman Singh's rule, and the allegations relate to use of fake holograms on liquor bottles by manufacturers. No action was taken against a single liquor manufacturer. In one case, Rs 56 crore worth ornaments were found in the home of a manufacturer, but ED did not seize the ornaments. On the contrary, in Mahadev gaming app, ED seized only two gold ornaments from the home of my political advisor."
Baghel said, his government collected nearly Rs 6,000 crore excise from liquor, whereas, during Raman Singh's rule, only Rs 3,900 crore excise was being collected from liquor. "Even the CAG did not find any irregularity in liquor excise case, but it is only ED which is taking action", he said. 
The chief minister alleged that Prime Minister Narendra Modi was "telling lies" by saying that it was the Centre which was buying paddy from farmers in Chhattisgarh. "It is the state government which procures paddy from farmers, and then sells it, even after incurring loss. We give Rs 1,900 per quintal for paddy here, whereas in Benares and Gujarat, they give only Rs 1200-1300 per quintal", he claimed.
ALSO READ:​ Chunav Manch: CM Baghel accuses BJP of fear of defeat and misuse of central investigative agencies
ALSO READ: Chunav Manch: Siddharth Nath Singh, Akhilesh Pratap Singh clash, Rahul labeled 'seasonal leader'