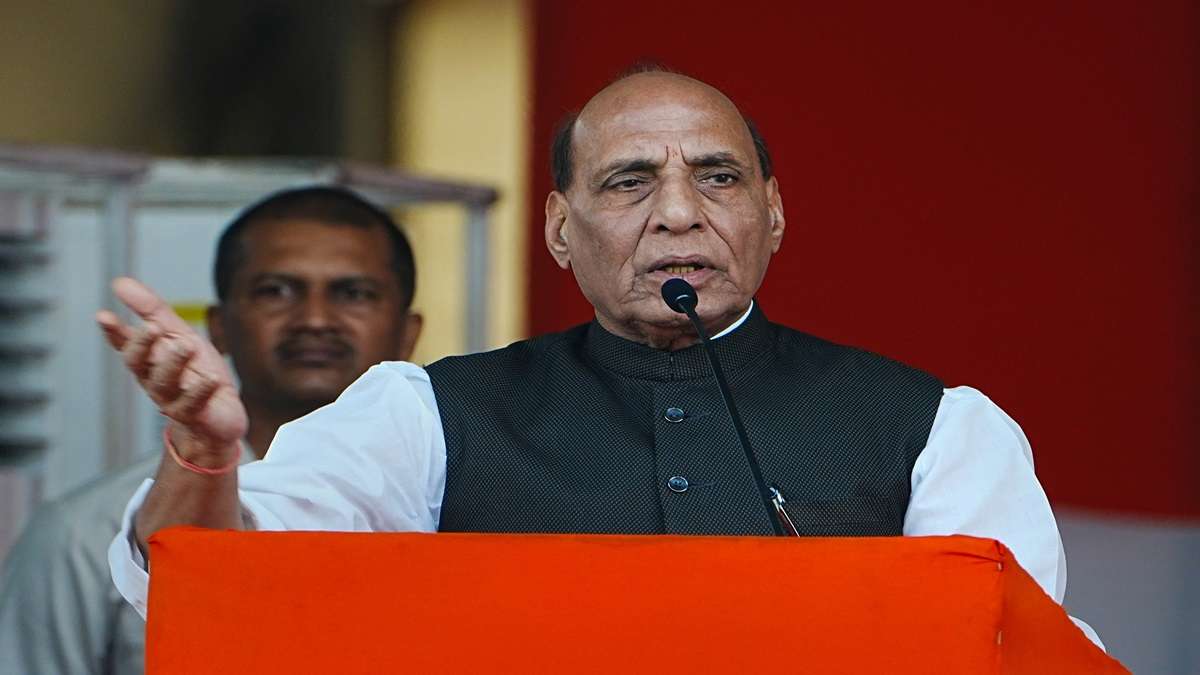 Madhya Pradesh Assembly Election 2023: Defence Minister Rajnath Singh today (October 29) compared Madhya Pradesh chief minister Shivraj Singh Chouhan with former India cricket team captain Mahendra Singh Dhoni who is known as one of the greatest finishers in world cricket. While addressing an event in Indore, Rajnath Singh also hailed the Bharatiya Janata Party (BJP) candidate from the Indore-1 assembly constituency for the Madhya Pradesh assembly elections, Kailash Vijayvargiya and called him Hardik Pandya of the politics of the state.
"I have called Shivraj ji 'Dhoni' (Mahendra Singh Dhoni). It doesn't mean how it started, he knows how to win after a great finish. If Shivraj ji is Dhoni, Kailashji is Hardik Pandya of MP politics," Singh said.
Singh inaugurated the election office of Kailash Vijayvargiya, in Indore. 
Rajnath Singh on Bimaru rajya tag:
"BJP has formed a government for the last two decades in Madhya Pradesh…We have ruled for a long time. No one can deny the fact that 17-18 years ago Madhya Pradesh was known as 'Bimaru Rajya' and it is BJP and Shivraj Singh Chouhan's government that has done the work of taking it out from 'Bimaru' state" Singh added.
He further said that when Congress leader Kamal Nath was in power, the Central Government had sanctioned eight lakh houses under the Pradhan Mantri Gramin Awas Yojana, but the then government returned 2 lakh houses.
"Today, when the whole of India, including Madhya Pradesh, is ready to take a new leap, it is very important to form the BJP government again in these assembly elections," Rajnath Singh said.
He further said that to promote investment here, not one but four investment corridors are being constructed. "Madhya Pradesh has been called the heart of India. I believe that if Madhya Pradesh is the heart of India, then Indore is the heartbeat of that heart. And if there is anyone who is the heartbeat of this Indore, then your popular candidate is Kailash Vijayvargiya," he added.
Vijayvargiya is the BJP candidate from the Indore-1 constituency for the November 17 MP assembly elections. He is pitted against sitting legislator and Congress leader Sanjay Shukla.
When voting will take place in MP?
Madhya Pradesh is one of the five states set to hold elections this year. The state is scheduled to undergo polls on November 17 and the counting of votes will take place on December 3. Voters will choose legislators from 230 Assembly constituencies.
(With agencies inputs)
ALSO READ:​ Madhya Pradesh Assembly Elections: BJP announces candidates for Guna, Vidisha constituencies
ALSO READ: Madhya Pradesh polls: Congress suffers major jolt as party's Chhindwara working president joins BJP