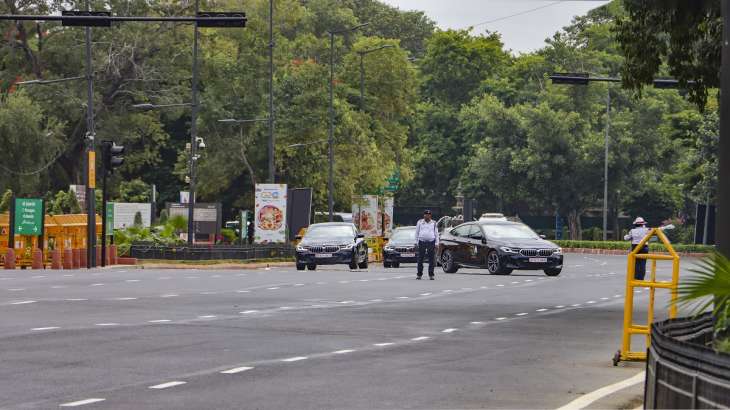 Security has been stepped up in parts of Delhi on Sunday in view of the crucial Day 2 of the G20 Summit. Meanwhile, the Delhi Police has also issued an alert in parts of the national capital. The traffic has been regulated as Controlled Zone 2 has been implemented in several parts of the city. 
Here's the traffic advisory for September 10:
Buses will not operate on Ring Road between ISBT Kashmiri Gate and Sarai Kale Khan

Buses will operate on the remaining stretch of Ring Road and the road network beyond Ring Road towards the borders of Delhi

Commuters travelling to the Airport have been requested to take Rao Tula Ram Marg instead of Dhaula Kuan
Top-tier security in Delhi
The Delhi Police also informed that other traffic regulations which are already in place since September 8 will continue to remain in force. Top-notch security formed the backdrop for the first day of the G20 summit in Delhi, as world leaders gathered under one roof to attend the G20 meeting at Bharat Mandapam on Saturday. This included vacant highways and congested cellphone networks.
To ensure watertight security during the gathering, the city was declared a no-fly zone and mobile signals at the venue were jammed to prevent any breaches, the security establishment left no stone unturned while also balancing the vigil with passenger convenience. The traffic management plan prepared for the big ticket summit in the Delhi-NCR area has been implemented since 9 pm on September 7 and will continue till the mega event is over.
Commuters called on helpline number
On Saturday, the first day of the G20 Summit, the Delhi Traffic Police said many commuters made calls on its helpline number asking about the least affected routes to reach their destinations, officials said. As the traffic was moving without any hassle in the city, the officials however, said they received only one call about traffic congestion in south Delhi's Chirag Delhi area on its helpline 011-25844444 as it is a holiday.
G20 Summit Virtual Help Desk
The traffic officials tried to resolve the queries of commuters who asked about the available routes across the national capital, the officials said. The commuters have been advised to follow real-time traffic updates on the 'G20 Summit Virtual Help Desk' for route suggestions for commuting to and fro the airport, railway stations or bus terminals, the officials said. Police have advised people to use the navigation app 'Mapmyindia' to move around the city with ease and get real-time traffic updates on its virtual help desk.
(With inputs from agencies) 
ALSO READ: G20 Summit 2023 LIVE: World leaders to pay tributes to Mahatma Gandhi at Delhi's Rajghat