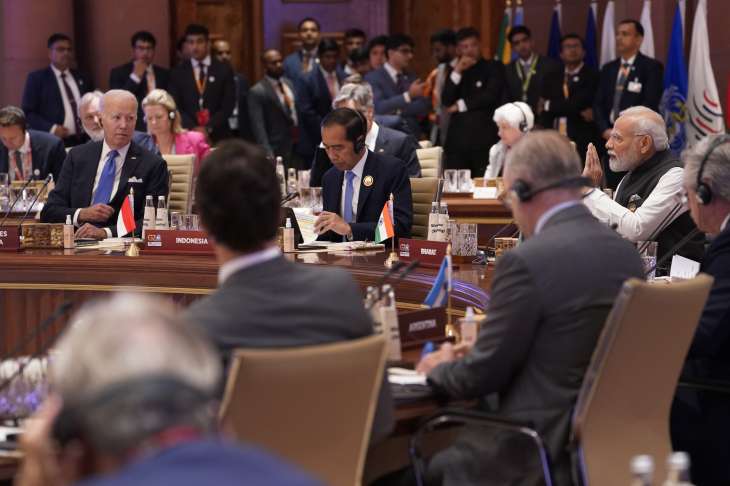 India on Saturday circulated a new paragraph among the G20 countries to describe the Ukraine conflict in the joint leaders' declaration to be unveiled at the end of the two-day summit of the grouping, diplomatic sources said. With consensus eluding on the paragraph relating to the Ukraine conflict, India on Friday circulated a draft summit declaration among the member countries without the paragraph on the geopolitical issue in an attempt to hammer out a positive outcome. UPDATES
India's circulation of the new text on Ukraine came as the G20 leaders began deliberations on pressing global challenges on the first day of the annual summit of the bloc. A lack of consensus on the text on Ukraine may result in the summit ending without a joint declaration, which will be a first for the grouping.
There was no consensus on the text to describe the Ukraine issue at the G20 Sherpa meeting that took place in Nuh district of Haryana from September 3-6. Indian negotiators believe that there will be consensus on the new paragraph that was circulated on Saturday morning, the sources said.
ALSO READ: PM Narendra Modi opens G20 Summit 2023 by welcoming African Union | Top Quotes
The response of the Western powers as well as China and Russia to the new text was not known immediately. Two sources had earlier said the G7 countries are not agreeable to any leaders' declaration without reference to the Ukraine conflict. The G20 operates under the principle of consensus and there have been apprehensions that lack of a common view may result in the summit ending without a joint declaration. Both Russia and China had agreed to the two paragraphs on the Ukraine conflict in the Bali declaration but backtracked this year, creating difficulties for India.
Almost all key meetings held under India's G20 presidency, including those of finance and foreign ministers, could not come out with consensus documents in view of opposition from Russia and China to any text referring to the Ukraine conflict.