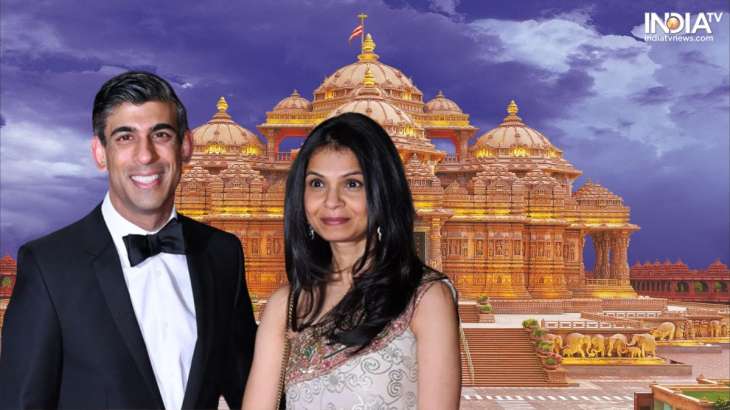 On the second day of the G20 Summit, United Kingdom Prime Minister Rishi Sunak visited Delhi's Akshardham temple on Sunday. He was accompanied by his wife Akshata Murty. Earlier on September 8, Sunak had expressed pride for his 'Hindu' roots and was ecstatic to visit the temple. 
"I am a proud Hindu. That's how I was raised, that's how I am. We just had Rakshabandhan, so from my sister and my cousin, I have all my Rakhis. I didn't have time to celebrate Janmashtami. But hopefully, as I said I can make up for that if we visit a Mandir this time," he had said while speaking to news agency ANI.
Security tightened in an around temple 
The Delhi Police said elaborate security arrangements have been put in place in view of the UK PM's visit to the Akshardham temple. The security has been tightened in and around the temple, the added. 
PM Modi holds bilateral meeting with Sunak
Earlier on September 9, Prime Minister Narendra Modi held a bilateral meeting with his UK counterpart on the sidelines of the G20 Summit being held in the national capital under India's presidency. The meeting between the two leaders was held at the 'Bharat Mandapam' in Pragati Maidan, the venue of the Summit.
The two leaders also participated in Session 1 on 'One Earth' during the G20 Summit. Sunak said that the world is looking to G20 to provide leadership and that the leaders are meeting at a time of enormous challenges. He expressed confidence that the leaders will together be able to address the challenges.
(With inputs from agencies) 
ALSO READ: G20 Summit: UK PM Sunak receives grand welcome in Delhi, says heard people here call me 'son-in-law' of India