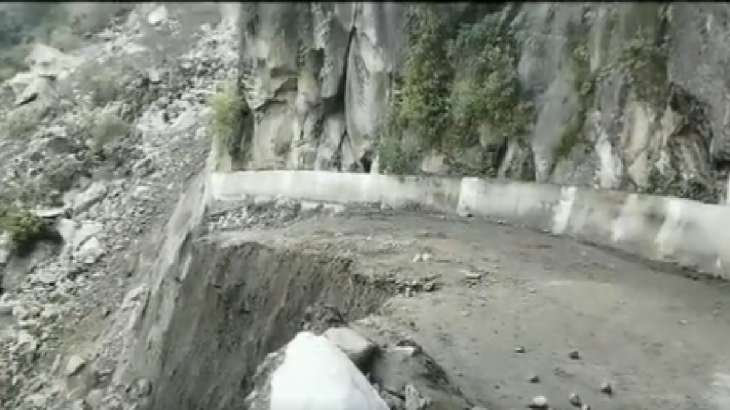 Himachal Pradesh landslide: National Highway-5 has been blocked due on Friday to heavy landslide near Nigulsari in Kinnaur district of Himachal Pradesh.A part of the highway was damaged due to the landslide.
The traffic connectivity to Kinnaur and Spiti was cut off due to the landslide, National Highways Authority of India (NHAI) said.
KL Suman, Executive Engineer of the National Highway Authority, said, "The road has started caving in from the top at the landslide. A 380-meter stretch of NH-5 has been damaged due to the landslide."
National Highway 5 was completely blocked near Nigulsari in Kinnaur district. About 380 meters of the National Highway completely caved, which disrupted vehicular movement. There is no alternate route to Kinnaur. 
10 passengers injured in Shimla:
Meanwhile, a bus rammed into a tree and overturned in Theog subdivision of Shimla district on Friday, leaving 10 passengers injured, police said. The bus was on its way to Tharoch from Shimla when the accident took place.
Police said the bus driver lost control over the vehicle and it rammed into a tree.
(With ANI inputs)
ALSO READ: Himachal Pradesh: 'Landslides and cloudbursts are caused by meat-eating,' claims IIT Mandi director
ALSO READ: Himachal Pradesh weather: Death count in Shimla landslide rises to 17, three still missing