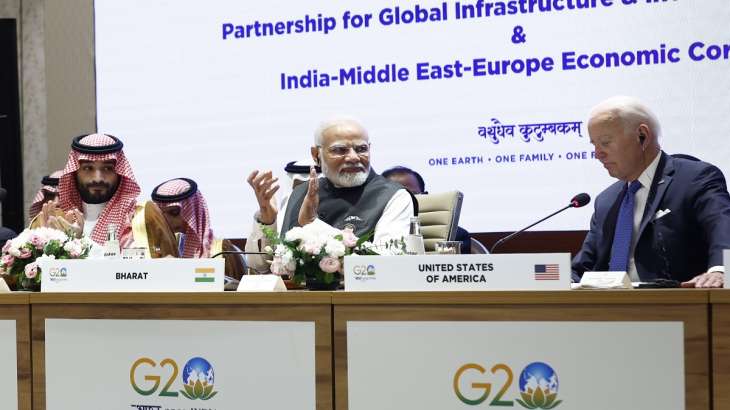 G20 Summit: Prime Minister Narendra Modi, US President Joe Biden, other leaders on Saturday jointly announced India-Middle East-Europe economic corridor to boost business activity in the region on the sidelines of the G20 Summit in New Delhi.
The development is being seen as a historic outcome from the Summit with US President Joe Biden saying that it's a big deal.
Speaking on the India-Middle East-Europe economic corridor, Prime Minister Narendra Modi said that a strong connectivity and infrastructure are fundamental basis for the development of human civilisation and India has always laid strong emphasis on this in its development journey.
However, it is important to keep in mind certain aspects while promoting connectivity initiatives such as adhering to international norms and rules, he said.
The Prime Minister stressed on respecting sovereignty and territorial integrity of all nations while promoting such initiatives.
"We are laying a strong foundation for a developed India," he said.
"India does not limit connectivity into regional borders. It has been India's priority to increase connectivity with all regions. We believe that connectivity between various countries is not only a source of increasing trade but also for strengthening mutual trust," he said.
"With such a major step on connectivity, we are sowing the seeds for future growth," he said.
Taking to X, formerly Twitter, PM Modi said, "Charting a journey of shared aspirations and dreams, the India-Middle East-Europe Economic Corridor promises to be a beacon of cooperation, innovation, and shared progress. As history unfolds, may this corridor be a testament to human endeavour and unity across continents."
"We need to maximize the impacts of our investments. That's why a few months ago, I announced that the United States will work with our partners to invest in economic corridors," he said.
"That means we're focusing on regional infrastructure projects that deliver results across multiple countries and multiple sectors," he said.
"This is a game changing regional investment," Biden said, adding that the US continues to make big investments in infrastructure around the world including in India.
The Saudi Crown Prince said he looks forward to the integration of the economic corridor.
Nothing but historic, says European Commission Chief
European Commission President Ursula von der Leyen hailed the agreement on the corridor, saying this is nothing but historic.
"It will be the most direct connection to date between India, the Arabian Gulf and Europe with a rail link that will make trade between India and Europe 40 per cent faster," she said.
ALSO READ | India-Middle East-Europe 'historic' economic corridor announced at G20 Summit | What you should know