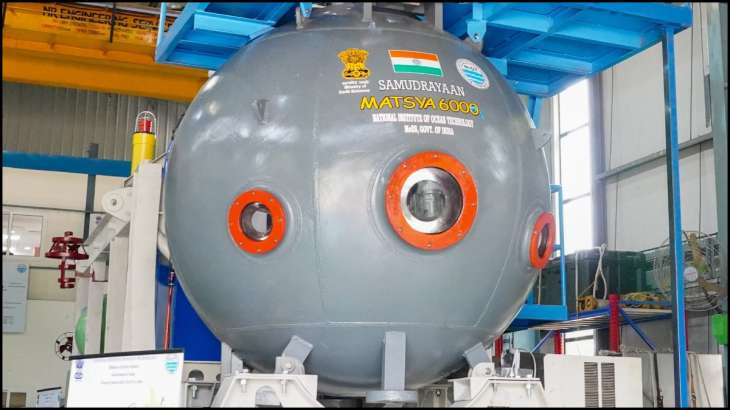 After a successful landing on the Moon in the historic Chandrayaan-3 mission, India is now set to launch 'Samudrayaan' – involving its first manned submersible called 'Matsya-6000' which will descend 6,000 metres into the Bay of Bengal with a three-man crew to study deep-sea resources and make an assessment of biodiversity.
Union Minister for Earth Sciences Kiren Rijiju took to X social media platform to share pictures of the under-construction submersible, calling the upcoming mission as 'Samudrayaan'. The homegrown submersible is being constructed at the National Institute of Ocean Technology (NIOT) in Chennai.
What is the role of the submersible?
According to Rijiju, India will send three people in its first manned deep ocean mission 'Samudrayaan' to a depth of 6 km in the Indian Ocean to study deep-sea resources and for a biodiversity assessment. The project will not disturb the ocean ecosystem, he said.
"Our scientists, researchers and engineers are fully devoted to make the deep ocean mission very successful in a sustainable manner," said Rijiju, adding that relevant documents in respective scientific domains have been prepared by NIOT and all institutes under the Ministry of Earth Sciences.
Rijiju further said that the 'Samudrayaan' mission supports Prime Minister Narendra Modi's 'Blue Economy' vision and envisages sustainable utilisation of ocean resources for the economic growth of the country, create jobs, improve livelihoods and preserve the health of the ocean ecosystem.
The submersible will facilitate the exploration of mineral resources rich in components like nickel, cobalt, rare earths and manganese and will also include the collection of samples, which can be used for analysis. The mission will lead to further efforts in underwater engineering innovations in asset inspection, tourism and the promotion of ocean literacy.
In December last year, Union Minister Dr Jitendra Singh said that the submersible mission is expected to come to fruition by 2026. The design of the vehicle had been completed but several components were in progress then. 
Structure of Matsya-6000
The Matsya-6000 was launched by Dr Singh in October 2021 for deep-sea exploration purposes and is primed to be ready for trials by the second quarter of 2024. The MATSYA-6000 is an indigenous submersible that has an endurance of 12 hours under normal operation and 96 hours in case of emergency for human safety. 
It has a 2.1 metre-thick titanium alloy shielding, making it capable of handling pressure 600 times more than at sea level. It includes critical subsystems for low-density buoyancy modules, Ballast and Trim System, pressure compensated batteries and propulsion system, control and communication systems and launching and recovery system. The design and operation have been certified by the International Association of Classification and Certification Society.
The cost of the deep ocean mission has been estimated at Rs 4,077 crore for five years and will be implemented in different phases. The first phase will be held in a span of three years – which will cost Rs 2,823 crore. 
Under the mission, a deep water Autonomous Underwater Vehicle (AUV) namely Ocean Mineral Explorer (OMe 6000) has been deployed for exploration using the research ship Sagar Nidhi at the Polymetallic Manganese Nodule (PMN) site in July 2021.
If the mission turns out to be a success, India will once again join an elite group of countries including the US, Japan, China, France and more that have underwater vehicles capable of conducting sub-sea missions.
ALSO READ | Chandrayaan-1 lunar mission: Earth's electrons may be forming water on Moon, says study