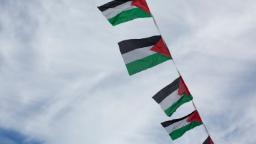 The Israeli military has released video from inside an exposed tunnel shaft at the Al-Shifa Hospital compound in Gaza City, showing an underground tunnel extending downward from the shaft opening. 
The video, which runs 3 minutes and 27 seconds and was filmed on Friday, Nov. 17, begins outside the tunnel shaft with several Israel Defense Forces soldiers visible in the opening shot. The video then shows the soldiers preparing to lower equipment into the shaft to examine the interior. There is no audio throughout the clip. 
As the camera is lowered into the shaft, a set of spiral stairs becomes visible around a central pole. The camera then begins advancing along the tunnel before coming to a sharp left turn. The walls of the tunnel appear to be made of vertical slabs of concrete, with an arched concrete roof.
After the turn, the tunnel continues before coming to a closed metal door with what appears to be a small viewing window. The IDF says it has not yet opened the door because the military fears it may be booby-trapped. The IDF says the tunnel shaft extends 10 meters (just over 30 feet) underground and the tunnel itself continues for 55 meters (180 feet). 
"This type of door is used by the Hamas terrorist organization to block Israeli forces from entering the command centers and the underground assets belonging to Hamas," the IDF and the Israel Security Agency claimed in a statement Sunday evening. 
Hamas and hospital officials have repeatedly denied that the hospital is anything other than a medical complex. 
Key context: For weeks, the IDF has said Hamas uses Gaza's largest hospital as cover for what they call terror infrastructure underneath. IDF spokesperson Rear Adm. Daniel Hagari said Hamas has a command and control center or headquarters underneath the hospital, which other senior Israeli officials have also insisted on. 
But having entering the hospital itself, the IDF is under tremendous pressure to prove the long-standing assertion with its promise of "concrete evidence." The exposure of the tunnel shaft and video of the tunnel underground is part of the IDF trying to build its case that Hamas uses the hospital for its own purposes. 
The IDF's ability to continue its operation in Gaza, and the credibility of Israel, are at stake as the number killed in Gaza surpasses 12,000, according to the Hamas-run Ministry of Health in Gaza. 
The IDF says one of its missions in Gaza is to destroy Hamas, but with international criticism mounting, Israel has to show conclusively that the terror organization is using Gaza's civilians and infrastructure as cover in order for Israel to justify an ongoing war.