Jerusalem
CNN
 — 

Israel's Defense Minister Yoav Gallant has become the first government minister to call for a halt in controversial plans to change the country's judicial system.
In a statement on Saturday, Gallant – a member of Prime Minister Benjamin Netanyahu's Likud party – called for a pause "for the security of Israel, for the sake of our sons and daughters."
The proposed laws would give the Israeli government control over the appointment of judges and allow parliament to override Supreme Court decisions.
The government argues the changes are essential to rein in the Supreme Court, which they see as insular, elitist, and no longer representative of the Israeli people. Critics say the plans threaten the foundations of Israeli democracy.
Hundreds of thousands of people have been taking to the streets in recent weeks against the proposals.
In his statement, Gallant also called for an end to the demonstrations.
"We need to stop the demonstrations and protests – and reach out for dialogue," he said.
"Any manifestation of refusal that eats away at the strength of the IDF and harms the security system should be stopped immediately," Gallant said, a reference to the refusal of some Israel Defense Forces reservists to train in protest at the government plans.
Soon after his comments, Israel's far-right National Security Minister Itamar Ben Gvir called on Netanyahu to fire Gallant.
"Gallant gave in tonight to blackmail and threats from all those anarchists who call for resistance and use the [Israel Defense Forces] as a bargaining tool," Gvir tweeted.
"Gallant was elected by the votes of right-wing voters and in practice promotes a left-wing agenda. At the moment of truth he collapsed under the pressure of the media and the protesters. I call on the Prime Minister to fire him immediately."
Two members of Netanyahu and Gallant's Likud party tweeted their support for the defense minister.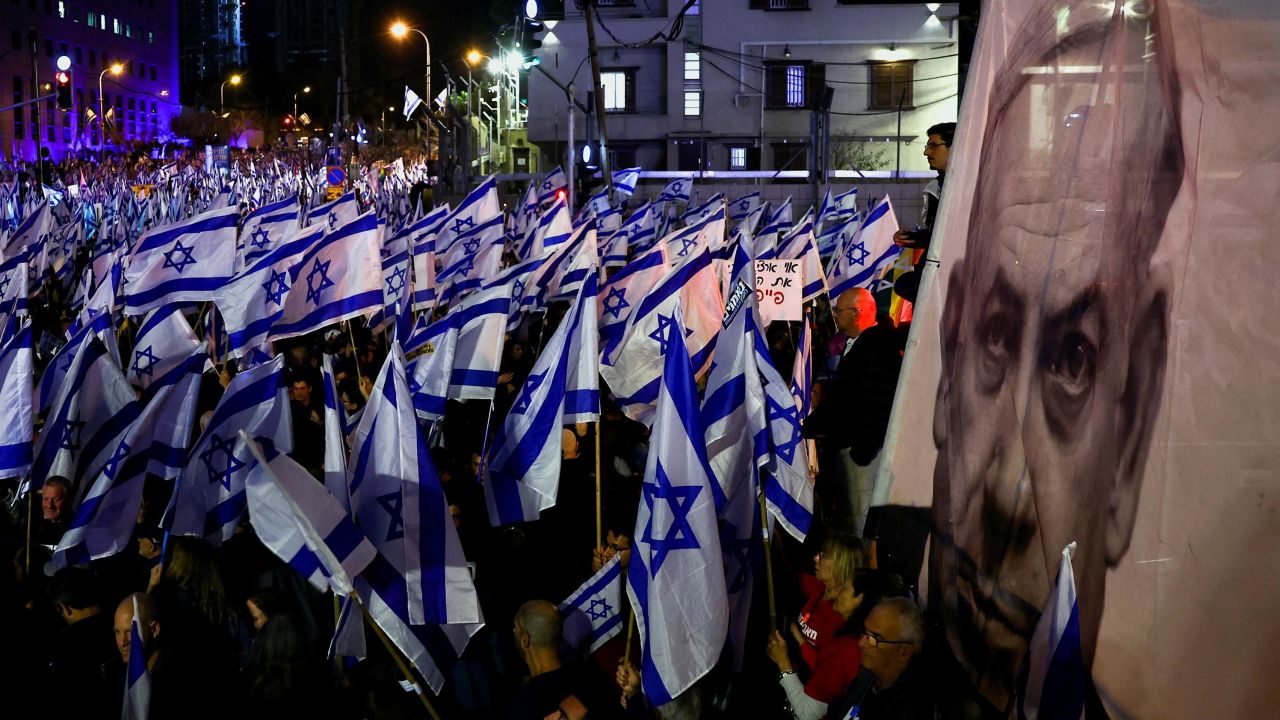 Netanyahu himself has given no indication he will back down. In a speech on Thursday he said he would address the concerns of "both sides," but pledged to continue twith the reform plans.
Likud lawmaker Danny Danon said it was too soon to know if there were enough rebels in the party to stop the legislation, telling CNN, "We will only know Monday," when members of the party meet in the Knesset, or parliament.
Netanyahu and his allies control 64 seats in the 120-seat legislature, so in theory five Likud rebels could deprive the coalition of an absolute majority. But lawmakers can abstain or be absent, bringing down the number of votes a law needs in order to pass.
Or, as Danon put it to CNN: "You don't really need 61."