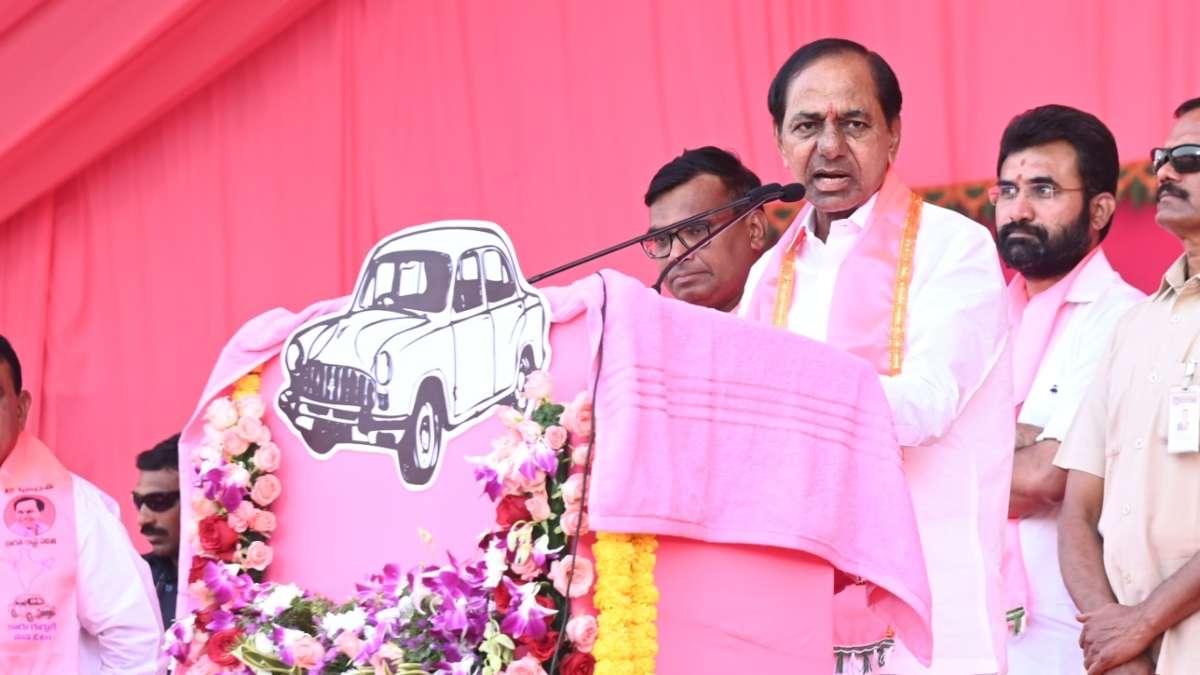 Telangana Assembly Elections: Hours after Bharat Rashtra Samithi (BRS) MP Kotha Prabhakar Reddy was stabbed during the poll campaign, Telangana Chief Minister K Chandrashekar Rao on Monday called it "an attack on himself". Reacting to the incident, Chief Minister KCR said at a rally in Banswada that everyone should unequivocally condemn the attack on the candidate.
"I am saying the attack on our Dubbak candidate is an attack on me," KCR said. "If the attacks are not stopped, if there is no self-control, we also have courage. If we also resort to the same acts, you will not remain. Even (your) dust also will not remain," he further said.
He appealed to the people of Telangana and intellectuals to condemn violence in politics.
Telangana CM Rao also met BRS MP at Yashoda Hospitals in Secunderabad today.
BRS MP stabbed during poll campaign
Bharat Rashtra Samithi (BRS) MP Kotha Prabhakar Reddy was stabbed during the poll campaign in Telangana on Monday. He was attacked by a 38-year-old man, identified as Raju, during the campaigning at Surampalli village of Daulatabad mandal in Siddipet district. The accused was taken into custody following the incident and a case was registered against him on the charge of attempt to murder.
Prabhakar Reddy, MP representing the Medak Lok Sabha constituency, sustained injuries to his stomach. He was first taken to a hospital in Gajwel, Siddipet district. The doctor said that his condition was stable, however, he was referred to a hospital in Secunderabad for further treatment.  
The accused who came to meet the MP went close to him and attacked him with a knife, Siddipet Commissioner of Police N Swetha said. Some party workers immediately caught hold of the accused and handed him over to the police. The incident took place in Surampalli of Doulthabad mandal when Prabhakar Reddy, who has been fielded by BRS from Dubbak for the November 30 assembly elections, was campaigning, police said.
Telangana Assembly Elections
Telangana Legislative Assembly, 119 members, will conduct elections on November 30 and the counting of votes will take place on December 3. Telangana is set to witness an intriguing triangular contest between the BRS, Congress, and BJP.
In the Telangana Assembly Election Results of 2018, the Telangana Rashtra Samithi (TRS) secured a resounding victory with 88 seats out of the total 119, comfortably surpassing the majority mark of 60. The Congress managed to secure 19 seats, while the All India Majlis-e-Ittehad-ul-Muslimeen (AIMIM) won 7 seats. The Telugu Desam Party (TDP) secured 2 seats, the BJP won 1 seat, and the All India Forward Bloc (AIFB) secured 1 seat. Additionally, there was one independent candidate who won a seat.
(With agencies input)
Also Read: Telangana Jana Samiti to support Congress in next month Assembly elections
Also Read: Kotha Prabhakar Reddy, BRS Lok Sabha MP from Medak, stabbed during Telangana poll campaign