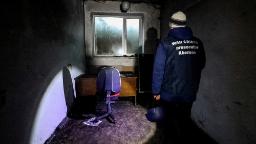 The United Nations says it has documented dozens of cases of summary executions of prisoners of war (POWs) carried out by both Russian and Ukrainian forces since February 2022, but admits it is far harder to get information from Russia, or territories under Russian control than it is from Ukrainian authorities.
In a new report, the UN's Office of the High Commissioner for Human Rights (OHCHR) says it has documented the summary execution of 15 Ukrainian POWs by Russian forces, in addition to the use of Ukrainian POWs as human shields, the death of two wounded POWs due to lack of medical care, as well as torture. 
Among the cases documented in the report is that of an officer of the Ukrainian National Guard tortured and then executed after refusing to hand over a password for entry to a radio station in Mariupol in April 2022. In another case, in September, a wounded Ukrainian serviceman was shot three times in the chest and once in the head after being captured by fighters from the Wagner mercenary group in a village south of Bakhmut. 
"Summary executions and attacks against POWs and persons hors de combat are prohibited under international law, and where deliberate, constitute war crimes," the report notes.
The report also highlights the lack of cooperation UN investigators have received from Russian and Russian-occupying authorities, saying it has been unable to gain any access to POWs interned by the Russian Federation, despite repeated such requests. It mentions one occasion only, in August, when a UN team was allowed to meet, but not interview, 13 Ukrainian POWs held in Russian-occupied Luhansk.
On the other side, the report says it has documented – through open-source information, in situ visits and witness interviews – the summary execution of at least 25 Russian POWs being held by Ukrainian forces. 
In one incident in March 2022 in the Luhansk region, the UN report suggests some members of Russian-affiliated armed groups were killed by Ukrainian servicemen after refusing to pronounce their intent to surrender. The UN report says the Russian fighters, some possibly injured or dead, were lying on the ground in the wake of an artillery attack.
In contrast to the lack of cooperation from Russian authorities, the report says UN teams have been given "full and confidential access" to Russian POWs held in official places of internment by Ukraine, "which OHCHR acknowledges with great appreciation."