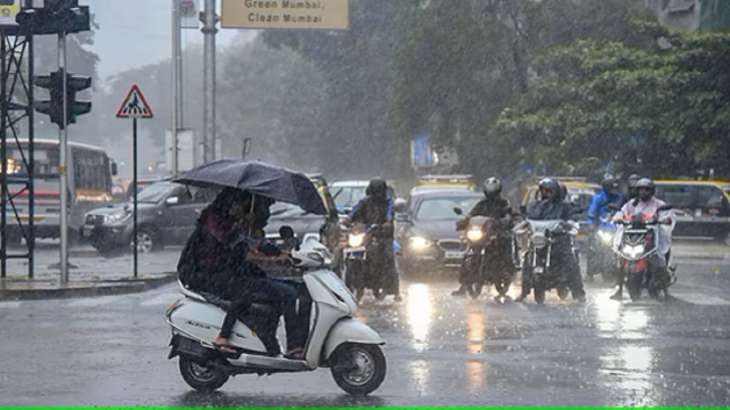 In its latest bulletin, the India Meteorological Department (IMD) has issued a Yellow alert for Friday in several districts of Maharashtra. The alert has been issued for Mumbai, Dhule, Nashik, Palghar, Thane, Ratnagiri, and Raigad districts. The weather department also predicted that Maharashtra's neighbouring states Gujarat and Madhya Pradesh will also see heavy downpours in the next three days. 
Light to moderate rainfall in several parts of country
"Western #MadhyaPradesh, #Maharashtra & #Gujarat to Face Heavy Downpour in next 3 days (sic)," the IMD said in a post on 'X'(formerly known as Twitter).  Apart from Maharashtra, the IMD has predicted light to moderate rainfall with moderate to severe thunderstorms in several parts of India in the coming days. 
"Recent Satellite Imagery shows moderate to intense convective clouds leading to the possibility of light to moderate rainfall activity occasional intense spells with moderate to severe thunderstorms and lightening over parts of Northwest #UttarPradesh, #EastUttarPradesh #SouthBihar, #northMaharashtra, #GujaratRegion, #MadhyaPradesh, #Odisha, #GangeticWestBengal, #Jharkhand, #Assam & #Meghalaya, #Nagaland, #Manipur, #Mizoram, #Tripura during night time," the IMD said in a string of posts on 'X'. Mumbai witnessed heavy rainfall since Thursday morning and more rainfall is expected at night (sic), the Met Office stated. 
"#Mumbai and adjoining regions have also reported heavy rainfall since 0830 hrs IST. #Mumbai Rain since 0830 hrs IST (in mm) #Santacruz 92.5; #Colaba 43.6; #Dahisar 71.0; #Juhu 84.0; #Rammandir 88.0; #Matunga 75.5; Sion 75.2 light to moderate rainfall is likely over Mumbai during night time," the IMD wrote on 'X'.
Earlier on Thursday, the weather office forecasted light to moderate rainfall in parts of Uttar Pradesh. It also predicted light to moderate rainfall in Kerala, Tamil Nadu, Andhra Pradesh, Andaman and Nicobar Islands, Sikkim, Ladakh, Arunachal Pradesh, Rajasthan and Telangana. 
Monsoon likely to revive in September: IMD
Last week, the IMD had said that the Southwest Monsoon is expected to revive in this month (September) after subdued rainfall resulted in India experiencing the driest August since 1901.  IMD Director General Mrutyunjay Mohapatra said that September is likely to witness normal rainfall in the range of 91-109 per cent of the long-period average of 167.9 mm. 
After excess rainfall in July, the south-west monsoon stayed away for most of August which witnessed 20 break days – from Aug 6-17, Aug 21-22 and Aug 26-31 – on account of El Nino conditions in the equatorial Pacific Ocean and unfavourable Indian Ocean Dipole conditions. India recorded a rainfall deficit of 25 per cent in August 2005, 24.6 per cent in 1965; 24.4 per cent in 1920; 24.1 per cent in 2009 and 24 per cent deficit in 1913, according to the IMD data.
(With inputs from agencies)
ALSO READ: G20 Summit Delhi: IMD to issue specialised weather forecast in view of ensuing meeting | DETAILS