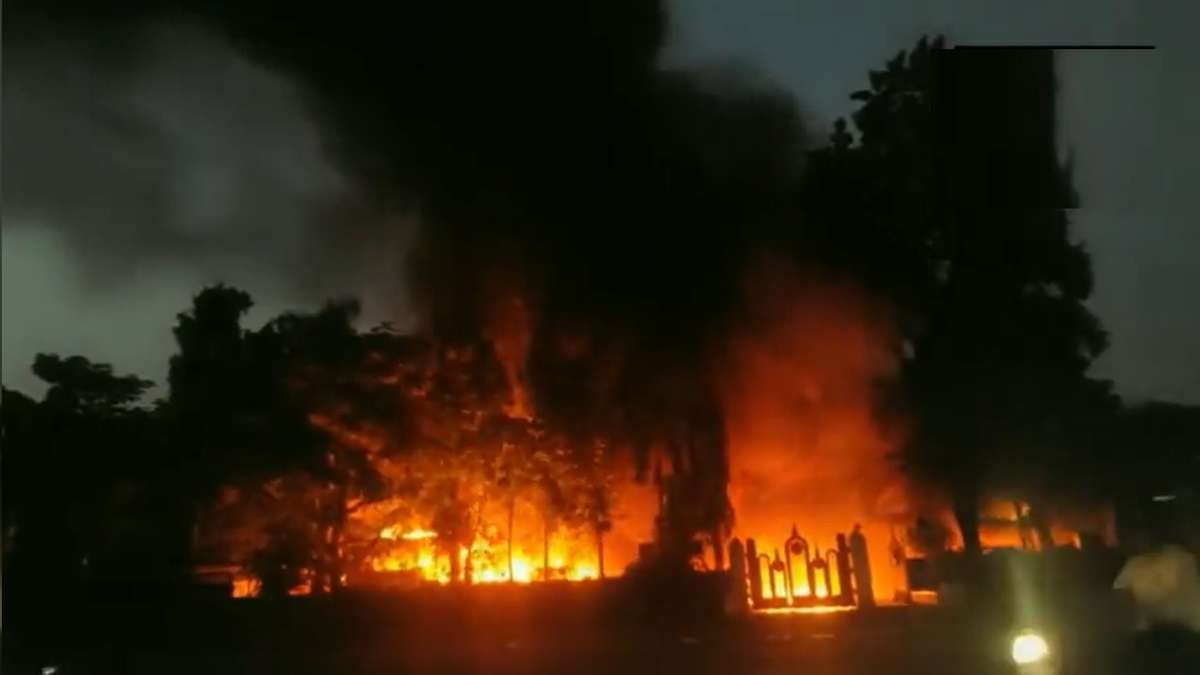 The Maratha reservation agitation intensified further in Beed, Maharashtra on Monday. The agitators targeted houses of NCP leaders and its office in the district. In a fresh development, the residents of Nationalist Congress Party (Sharad Pawar) MLA Sandeep Kshirsagar and former minister Jaydutt Kshirsagar were torched by the protesters. They set fire to the NCP office in Beed City earlier this evening. 
The fresh incidents of arson came hours after the pro-Maratha reservation protesters targeted the residence of NCP MLA Prakash Solanke in Majalgaon, Beed. They set his house ablaze amid sloganeering in favour of reservation. The flames quickly engulfed the entire house, causing significant damage, while the occupants fortunately escaped without injuries.
Beed: Curfew imposed in the district
In the wake of ongoing violent agitation in Beed district, the district authority imposed a curfew in a radius of 5 km from Beed district headquarters and all taluka headquarters. The restriction will be affected on the national highway as well. until further orders. Collector Deepa Mudhol Munde appealed to people to stay at their homes till the situation is normalised.
 NCP MLA Prakash Solanke's reaction
Reacting to the attack, NCP MLA Prakash Solanke stated, "I was inside my house when the attack occurred. Luckily, none of my family members or staff were injured, but the property has suffered heavy losses due to the fire."
Maratha agitators set a brigade vehicle on fire
They also targeted a fire brigade vehicle in Beed. The fire engine of the Agricultural Produce Market Committee caught fire when it was going from Ambika Chowk to extinguish the fire at the residence of Beed MLA Sandeep Kshirsagar.
Activist Manoj Jarange continues hunger strike
Activist Manoj Jarange, who has been at the forefront of an indefinite hunger strike in Maharashtra's Jalna district, is steadfast in his demand for reservation for the Maratha community. Despite concerns over his health, Jarange has refused to undergo a medical check-up, raising worries about the potential impact on his vital organs and health parameters.
The Maratha reservation movement, marked by peaceful protests in its initial stages, has evolved into a more confrontational phase, drawing attention to the demands for reservation in government jobs and education for the community under the Other Backward Classes (OBC) category.
Adding to the unrest, concerns have been raised that providing reservation to the Marathas could potentially deprive the OBC community of their existing quota. Representatives from the OBC community have emphasized their fear that Marathas may be granted a separate reservation outside of the OBC quota.
(Report by Aamir Hussain)
Also read | Maharashtra cabinet to accept Justice Shinde committee's Maratha reservation report: CM