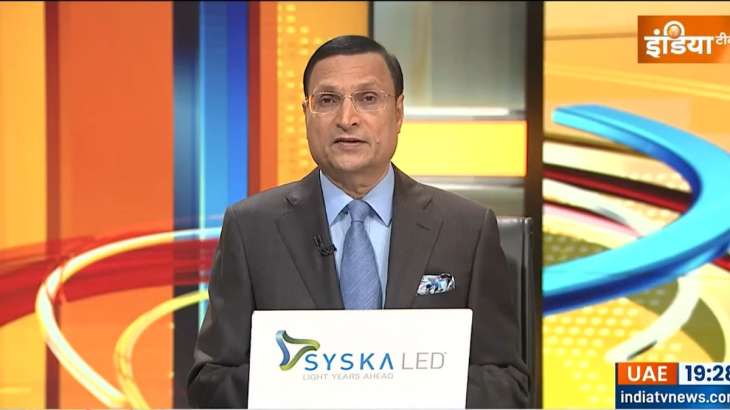 Opposition leaders continue to make derisive remarks about Sanatan Dharma.  Senior DMK leader and former Union Minister A. Raja said, the chief minister's son "Udhayanidhi was soft in comparing Sanatan Dharma with dengue, malaria and corona. These diseases do not have a social stigma. To be honest, Sanatan Dharma is a social stigma like leprosy and HIV…I am prepared to give replies to all cabinet ministers if the PM convenes a meeting and allow me to speak. Bring anybody. I am ready to debate on Sanatan Dharma. I don't mind if there are 10 lakh or 1 crore people. Let them carry weapons. I will bring Periyar's and Ambedkar's books to Delhi for the debate."
The strangest part is that DMK stands solidly behind leaders making such offensive remarks. DMK supremo and Tamil Nadu chief minister M K Stalin issued a statement defending his son Udhayanidhi's remarks and said, "pro-BJP forces are spreading a false narrative that Udhayanidhi has called for a genocide of people who support Sanatan Dharma. Even after Udhayanidhi's denial, some of these ministers including Amit Shah, Rajnath Singh and others, have not retracted their statements." The chief minister said, his son had only made remarks which have already been made by Periyar and Ambedkar in the past and "only the words are different". 
Congress President Mallikarjun Kharge's minister son Priyank Kharge said, there is nothing wrong in questioning social differences which need to be eradicated. He claimed that he did not name any religion, and he was not bothered about FIRs filed against him. In Patna, Bihar RJD chief Jagadanand Singh stoked another controversy by saying that "India was enslaved because of people who sported 'tikka' and 'tilak' on their foreheads". Since the leaders who are making such outrageous comments are senior figures in their own parties, there are speculations that it could be part of some orchestrated strategy behind such attacks. BJP leader Ravi Shankar Prasad showed a copy of Constitution to say that it includes pictures of Ram Durbar and Bajrangbali. "The Sanatan feeling has been there in the Constitution since the beginning. DMK leaders take oath on this Constitution and yet they are insulting. Why are Congress and other parties silent?", Prasad asked. 
Some experts may say that this is not the first time DMK leaders have criticised Sanatan Dharma or Hindutva, but it is all a question of timing. The words being used are theirs. In the past, DMK leaders had criticized caste inequalities and other social evils, but they never used words like malaria, dengue, HIV and leprosy.  They are now saying Sanatan must be uprooted. This is a dangerous trend. It cannot be tolerated.  It has hurt the feelings of more than a billion Hindus. These vicious attacks have surfaced after the INDIA opposition bloc meeting in Mumbai, which was attended by M.K. Stalin and his son Udhayanidhi. After maintaining silence for two days, the chief minister came out defending his son's remarks. Are the remarks spontaneous? Some leaders say, after Udhayanidhi made his remark, his father supported him and other DMK leaders fell in line. 
A. Raja was no exception. It could be his compulsion, to support Udhayanidhi. Let me mention here that in July last year, A. Raja, at a meeting, had demanded a separate nation. He had then alleged that PM Modi and the Home Minister are not granting autonomy to Tamil Nadu. After Raja's remark created a storm, M K Stalin distanced himself and his party from his statement. Chief Minister Stalin must now clarify whether branding a religion as leprosy and HIV is not akin to fanning flames of separatism in India?  Congress must also clarify that if it does not agree with Udhayanidhi's statement, then why did it maintain silence on Kharge's son Priyank who had supported Stalin's son. Left parties are happy over the controversy since they consider religion as "opium of the masses" in Communist ideology and they project themselves as atheists. CPI leader D. Raja said, Udhayanidhi has the right in expressing his opinion and BJP is only trying to divide people. In Mumbai, Shiv Sena (UBT) is in a quandary. 
Uddhav Sena leader Sanjay Raut cautioned DMK leaders not to make objectionable remarks about Sanatan Dharma and keep their personal opinion to themselves. Congress spokesperson Pawan Khera said, nobody must insult any religion and his party does not agree with such comments. "All religions must be given due respect", he said. I feel that DMK leaders have deliberately made remarks about 'uprooting' Sanatan Dharma. There is a strategy behind this and it suits their brand of politics in Tamil Nadu. The strangest part is the silence on part of Congress party. Is it not hate that is being spread by comparing Sanatan Dharma with HIV and leprosy? How can this be part of  'mohabbat ki dukaan' (love shop) in Rahul Gandhi's words?  One must also note that the Congress President's son Priyank Kharge is supporting those who are attacking Sanatan Dharma. 
The question is: Is there any connection between his son's remark and his father's future political path? Already there are speculations that Kharge wants to become the 'face' of anti-Modi front. Several non-Congress leaders in opposition alliance have floated the idea of projecting a Dalit leader as PM candidate to gain political advantage. Is this the reason why Kharge's son is supporting Udhayanidhi's remarks? Since Priyank is the party president's son, none in the Congress has so far opposed his remark. This begs another big question. Will the strategy to spread Kharge's support base and project him as PM candidate, prove  to be politically suicidal for both Kamal Nath and Ashok Gehlot? In North India, to speak and hear about "uprooting Sanatan Dharma" could prove politically suicidal. Already Kamal Nath has been organizing Shiv Puran Katha in his home constituency Chhindwara and the Rajasthan CM is attending Sri Krishna Katha in Bhilwara, Rajasthan. 
The Congress has been organizing Hanuman Chalisa and Ram Katha in both these states. Gehlot's and Kamal Nath's strategy for assembly polls is quite clear. They want to confine themselves to local issues. Kamal Nath never attacks Narendra Modi directly nor does he praise Rahul in his meetings. All his attacks are focussed on the current incumbent Shivraj Singh Chouhan. He does not want Congress' national liabilities to hamper his poll plans. Ashok Gehlot, on his part, is maintaining a studied distance from central politics. Gehlot also refrains from attacking Modi and his speeches are focussed on local issues of Rajasthan. He is fighting the poll battle on the basis of his government's performance on welfare schemes. Both Kamal Nath and Gehlot know that Congress image in both these states had been a pro-minority one. In the changed circumstances, both these leaders do not want to hurt Hindu sentiments and are projecting themselves as 'committed Hindus'. 
Ram Katha, Shiv Puran Katha, Shri Krishna Katha, Bajrangbali, Hanuman Chalise are part of their campaign tools. Looking at the anti-Sanatan vitriol that have emanated in the last 2-3 days, it could be difficult for both these leaders to shield their party from any further disadvantage. Merely ignoring such remarks will not do. People are going to definitely ask their opinion about those calling to "eradicate Sanatan Dharma". Will the Congress continue its alliance with DMK, which is openly spreading hate against Hindu society? It could prove difficult for the Congress to give a cogent reply. They are going to face the challenge of Narendra Modi's popularity at the hustings, and Gehlot is already realizing this.
Aaj Ki Baat: Monday to Friday, 9:00 pm
India's Number One and most followed Super Prime Time News Show 'Aaj Ki Baat- Rajat Sharma Ke Saath' was launched just before the 2014 General Elections. Since its inception, the show has redefining India's super-prime time and is numerically far ahead of its contemporaries.