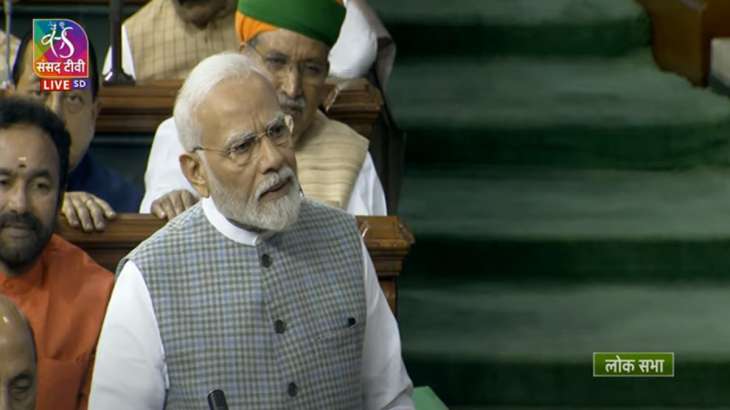 Prime Minister Narendra Modi on Monday (September 18) addressed the Lok Sabha on the first day of the Special Session of Parliament and lauded the contribution of former Prime Ministers in nation-building, including that of Jawaharlal Nehru.
The Prime Minister lauded the roles of all former Presidents and said that they have shown guidance to the House and nation through their addresses.
The Special Session of Parliament is being held from September 18 to 22. The session will move to the new building of the Parliament on September 19.
"From the addresses of Dr Rajendra Prasad to Abdul Kalam to Ram Nath Kovind, our Houses have benefitted from their speeches. They have guided the House. From Pandit Nehru, Shashtri ji to Atal ji, Manmohan Singh, they have led this House and given a direction to the country. They laboured hard to give a new shape to the country. It is an occasion to laud them all," PM Modi said.
Making a special mention of India's first Prime Minister Jawaharlal Nehru's "At the stroke of midnight" speech in the Parliament and said it acts as an inspiration for all of the members.
He also highlighted former PM Atal Bihari Vajpayee's famous quote in Lok Sabha when he said that the governments will form and fall but the country must remain.
"The echoes of Pandit Nehru's "At the stroke of the midnight…" in this House will keep inspiring us. In this House itself, Atal ji had said, "Sarkarein aayegi-jaayegi, partiyan banegi-bigdegi, lekin ye desh rehna chahiye (governments will come and go, parties will form and go, but the country must stay). This echoes even to this day," PM Modi said.
The Prime Minister recalled Indira Gandhi's leadership during the 1971 war with Pakistan and also reminded about the Emergency imposed by the former Prime Minister in 1975.
"It was this Parliament that saw the Bangladesh Liberation movement and its support under the leadership of Indira Gandhi. It was the same Parliament that also witnessed the attack on democracy during the Emergency. This Parliament building also saw the Emergency and cash-for-votes scandal," he said.
(With inputs from agencies)