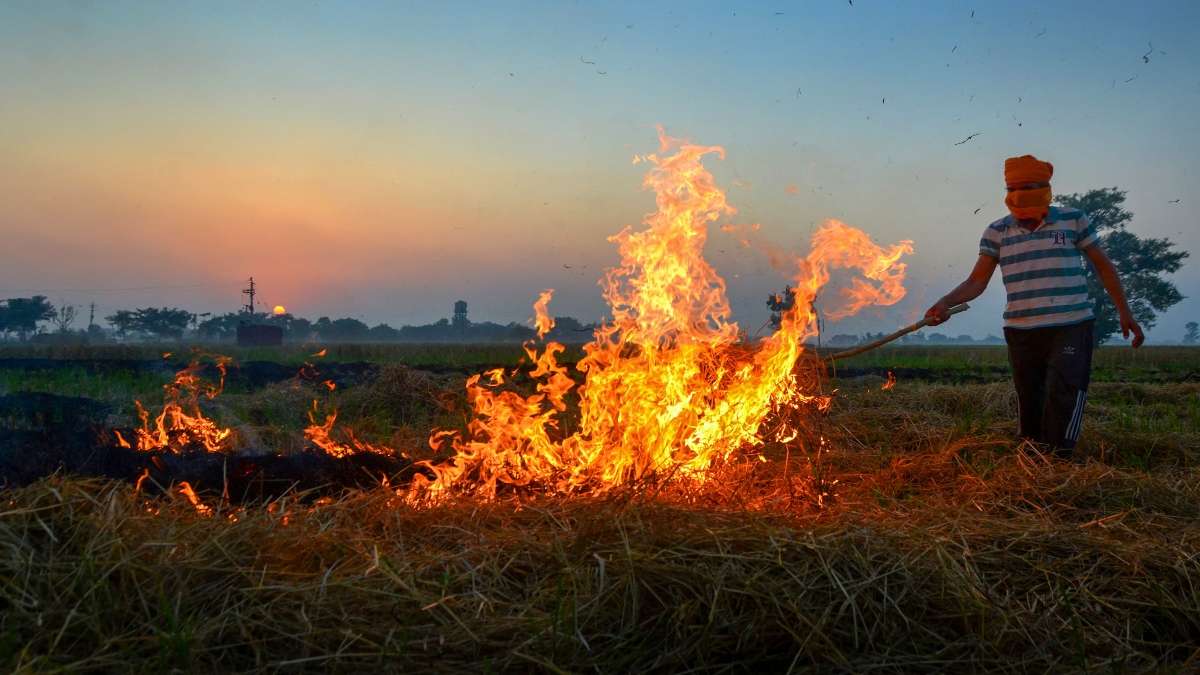 Stubble burning: Farmers continued to set crop residue ablaze, thus contributing to the over 600 stubble-burning incidents that took place in Punjab on Saturday (November 18), defying the Supreme Court's orders to stop the farm fires which is a major cause of air pollution in the neighbouring regions including the national capital. Air quality indices remained in 'very poor' and 'poor' categories in many parts of Haryana and Punjab. Several farmers in Punjab continued to burn straw even after the district police chiefs and deputy commissioners in various districts visited fields to check stubble-burning incidents.
The Supreme Court had on November 7 directed Punjab, Haryana, Uttar Pradesh and Rajasthan to ensure that the farm fires were put to end "forthwith", amid rise in the air pollution in Delhi-NCR, saying it cannot let "people die" due to pollution.
Farm fire incidents
According to officials, out of the 637 farm fires reported on Saturday, Moga recorded maximum such cases at 120, followed by 111 in Fazilka, 69 in Ferozepur, 57 in Bathinda, 51 in Muktsar, 48 in Barnala and 43 in Faridkot. On the same day in 2021 and 2022, the state had seen 680 and 701 farm fires respectively.
The total number of such incidents rose to 33,719 with the latest farm incidents, according to the Punjab Remote Sensing Centre data.
Out of a total of 33,719 farm fires recorded from September 15 till November 18, Sangrur is leading with maximum stubble burning cases of 5,501, followed by 3,067 in Ferozepur, 2,753 in Bathinda, 2,290 in Moga, 2,207 in Mansa, and 2,160 in Barnala. The state reported 69,980 and 48,489 stubble-burning incidents in the corresponding period of 2021 and 2022 respectively.
Paddy straw burning in Punjab and Haryana is considered to be one of the reasons behind the rise in air pollution levels in Delhi in October and November.
AQI at various places
Meanwhile, Haryana's Sonipat reported an Air Quality Index (AQI) of 390, followed by 340 in Fatehabad, 314 in Faridabad, 301 each in Gurugram and Hisar, 296 in Bhiwani, 273 in Rohtak and 262 in Kaithal.
In Punjab, Bathinda reported AQI at 329, followed by 264 in Jalandhar, 232 in Patiala, 219 in Ludhiana, 208 in Khanna, 195 in Amritsar and 168 in Rupnagar. Chandigarh recorded an AQI of 141.
An AQI between zero and 50 is considered 'good', 51 and 100 'satisfactory', 101 and 200 'moderate', 201 and 300 'poor', 301 and 400 'very poor', and 401 and 500 'severe'.
(With PTI inputs)
ALSO READ | Supreme Court pulls up Punjab over stubble burning: 'Don't know how you do it, but must be stopped'
ALSO READ | 'Pollution level must come down, it cannot await tomorrow': Supreme Court's key observations