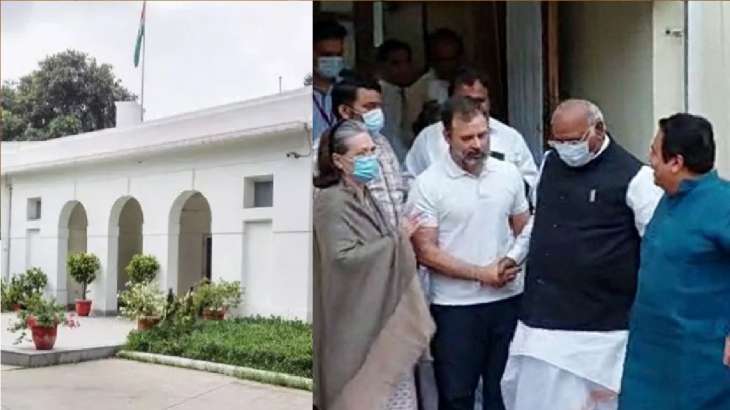 Former Congress president Rahul Gandhi was asked to vacate government bungalow in Delhi on Monday. He was disqualified from the Lok Sabha on Friday after he was convicted and sentenced to a two-year jail term in a defamation case by a Surat court.
He was currently allotted a 5-bedroom Type 8 bungalow situated at 12 Tughlak Lane in Lutyen's Delhi.
The development comes hours after Gandhi hit out at the Centre over the Adani issue alleging that the BJP-led government is allowing peoples' retirement savings to be invested in companies owned by the Adani group. Rahul Gandhi asked the Prime Minister why he fear so much for an investigation on Adani.
Taking to Twitter, Rahul Gandhi said, "LIC's capital, to Adani! SBI's capital, to Adani! EPFO's capital too, to Adani! Why is public's retirement money being invested in Adani's companies even after 'Modani' exposed?"
The Prime Minister is not giving answers and neither calling for any investigation. Why does he fear so much?
A major political controversy erupted after Adani Group stocks took a beating on the bourses after US-based short seller Hindenburg Research made a litany of allegations, including fraudulent transactions and share-price manipulation, last month.
The Gautam Adani-led group has dismissed the charges as lies, saying it complies with all laws and disclosure requirements. Gandhi has been attacking the prime minister on the Adani issue and has been demanding an investigation into the matter.
He has alleged that his disqualification from the Lok Sabha was due to him raising questions on the Adani issue, but asserted that he will continue to do so even if he is disqualified from Parliament for life.
ALSO READ | 'Won't tolerate Savarkar's insult': Uddhav Thackeray warns Rahul Gandhi
ALSO READ | Like-minded Opposition leaders to discuss strategy for floor of house today in Parliament