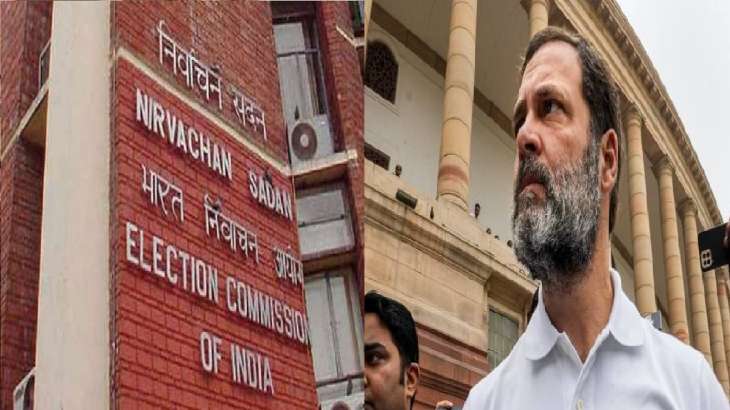 Rahul Gandhi disqualified: A day after a Surat court convicted him in 2019 'Modi surname' defamation case, Congress MP from Wayanad Lok Sabha constituency Rahul Gandhi was disqualified as member of Lower House on Friday. Now, the Wayanad Lok Sabha constituency is vacant and all eyes are on Election Commission of India (ECI) which will take call on when to conduct a by-poll in Kerala's district.
Experts say EC would not take any decision on by-poll in hurry. Its last experience was not so good in a similar case.
Lakshadweep MP Mohammed Faizal case an example
After 2019 General elections, Mohammed Faizal PP of the Nationalist Congress Party was the MP till his disqualification. He was disqualified after he was convicted with 10 year jail term in a case of attempt to murder. Subsequently, the Ethics Committee of Lok Sabha disqualified him from membership of the Lower House. On January 25, 2022, the Kerala High Court overturned the judgement of the Kavaratti court against him. On January 30, 2023, the EC deferred by-poll in the Lakshadweep constituency. so it is unlikely, EC will take any call before Higher Court's order in the matter.
Two-year jail for Rahul
Earlier, The Surat Sessions court awarded two-year sentence to Rahul Gandhi, however, he was granted bail and 30-day time to appeal against the decision.
"Consequent upon his conviction by the Court of Chief Judicial Magistrate, Surat, Rahul Gandhi, Member of Lok Sabha representing the Wayanad Parliamentary Constituency of Kerala stands disqualified from the membership of Lok Sabha from the date of his conviction i.e.23 March, 2023," a notification issued by the Lok Sabha Secretariat stated. 
While the Congress called the decision to disqualify Rahul Gandhi, who represents the Wayanad constituency in Lok Sabha, as political vendetta and vowed to fight the battle both 'legally and politically', the Congress leader had limited options with him.
What's next for Rahul Gandhi
According to legal experts, the Lok Sabha Secretariat has declared Rahul Gandhi's Wayanad parliamentary seat vacant. The Election Commission can now announce election on the seat. Rahul Gandhi can also be asked to vacate the government bungalow in Delhi as the notification of his disqualification has also been marked to Liaison Officer, Directorate of Estates, and Parliament Annexe.

If the verdict of Rahul Gandhi's sentence is upheld by the higher courts also, then he will not be able to contest elections for the next 8 years. After completing two years of sentence, he will not be able to contest election for next six years.

Rahul Gandhi can now challenge the decision of the Surat court in the high court. The Congress has also questioned the legality of the action that only the President can disqualify an MP in consultation with the Election Commission.
ALSO READ: Rahul Gandhi convicted: When Congress leader trashed the Ordinance meant to save convicted leaders