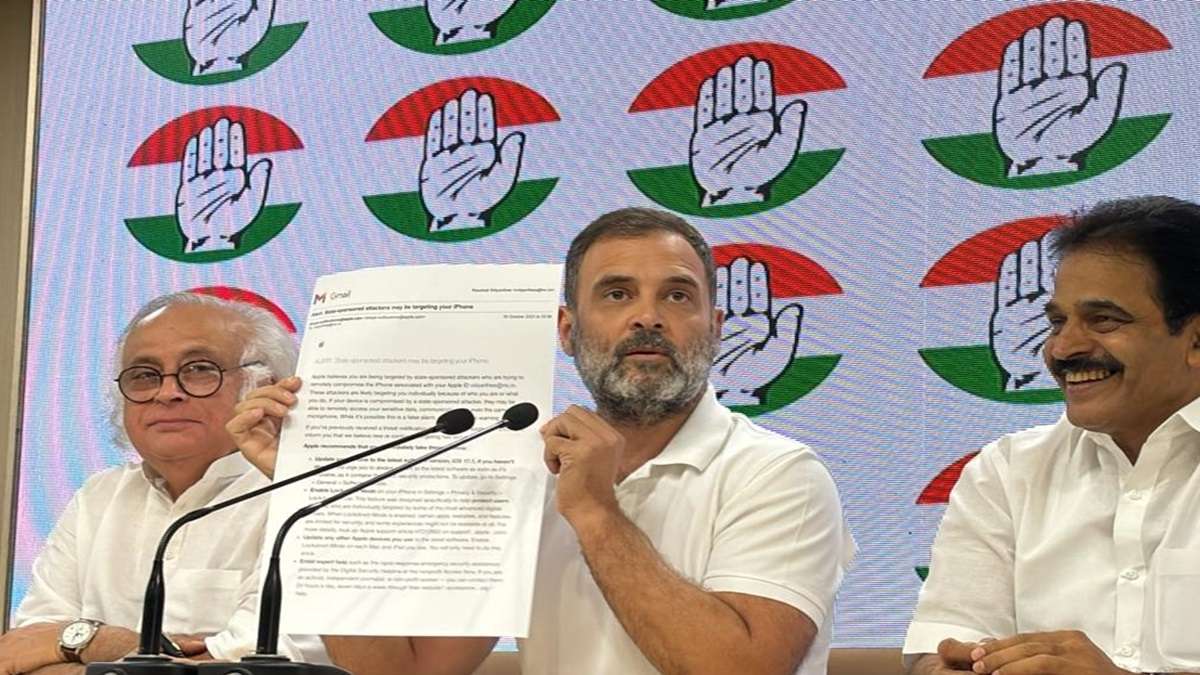 Congress leader Rahul Gandhi on Tuesday claimed that the phones of many Opposition leaders are being taped and cited the alleged notification sent by mobile giant Apple. Several opposition leaders on Tuesday claimed they had received an alert from Apple warning them of "state-sponsored attackers trying to remotely compromise" their iPhones and posted purported screenshots of the message on their X handles.     
He also dared the Central government and said, "Do as much phone tapping as possible, you can take my phone, I am not scared. This is the work of criminals and thieves." "A number of people in my office have got this message… In Congress, KC Venugopal ji, Supriya, Pawan Khera have got it too…They (BJP) are trying to distract the attention of the youth."
"…Very few people are fighting against this but we are not scared. You can do as much (phone) tapping as you want, I don't care. If you want to take my phone, I will give it to you..," he added.
'Number 2 is Adani'
Raking up the Adani issue, Rahul Gandhi said, "…Earlier, I used to think number 1 is PM Modi, number 2 is Adani and number 3 is Amit Shah, but this wrong, number 1 is Adani, number 2 is PM Modi and number 3 is Amit Shah. We have understood the politics of India and now Adani ji cannot escape. Distraction politics is going on…"
On removing 'Adani Sarkar' from the country, Congress MP Rahul Gandhi said, "This is an interesting problem. I have some ideas. We will show how the Adani Govt can be removed when the time comes. Do not think that Adani ji will be removed by removing the Govt. Adani ji is the symbol of the kind of monopolisation currently going on in the country. The financial system of BJP is directly linked with him (Adani)…"
'No place for this in democracy'
On multiple opposition leaders alleging 'hacking' of their Apple devices, Samajwadi Party chief Akhilesh Yadav says, "This is a sad thing…I got this message in the morning which says that your device is being hacked or surveillance is being done by the 'state-sponsored agency… Why is surveillance being done? There is no place for this in democracy. The investigation should be done for this…"