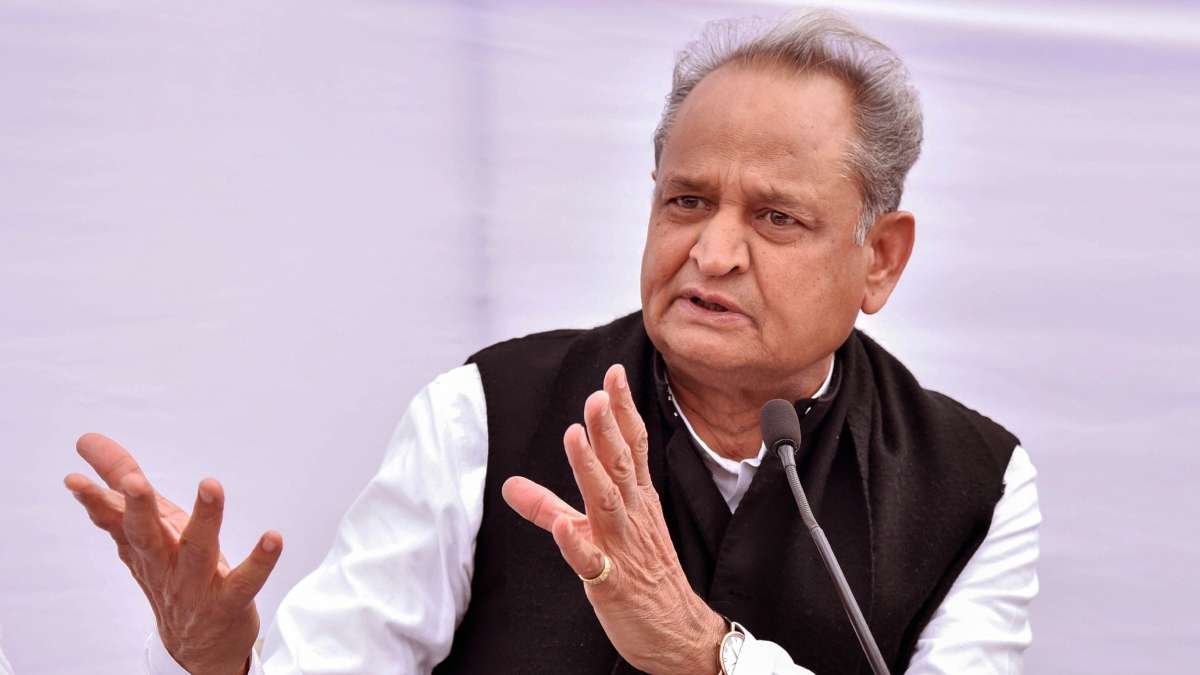 Rajasthan Assembly Elections: The Bharatiya Janata Party (BJP) lodged a complaint with the Election Commission of India (ECI), alleging that Rajasthan Chief Minister Ashok Gehlot's announcement of "seven guarantees" ahead of the November 25 assembly elections breaches the Model Code of Conduct (MCC).
Earlier on October 27, Gehlot had announced five guarantees for the people of Rajasthan, including a law on the Old Pension Scheme, buying cow dung and providing a laptop or a tablet to government college students, if his government is reelected. Two 'guarantees' were announced in Congress leader Priyanka Gandhi Vadra's public meeting earlier.
BJP delegation submitted memorandum with CEO
A delegation from BJP met with Chief Electoral Officer (CEO) Praveen Gupta and submitted a memorandum, asserting that any announcements of schemes by political parties that could influence the general public are in violation of the Model Code of Conduct.
The Model Code of Conduct came into force in Rajasthan on October 9 after the Election Commission announced the date for the assembly elections.
BJP said that Gehlot's announcement constitutes a violation of the Model Code of Conduct and also falls under the category of 'Corrupt practices' as per section 123 of the Representation of the People Act, 1951.
The BJP's intellectual cell convenor, Rajendra Singh Shekhawat, pointed out that Chief Minister Gehlot had written a message on social media outlining the seven guarantees of the Congress and encouraged people to register themselves to take advantage of these schemes.  He alleged that luring the general public to register for such guarantee schemes was a criminal act and a violation of the Model Code of Conduct.
Shekhawat said that such actions are in violation of the rules and should be halted immediately. He also called for appropriate action to be taken against the Congress and its Chief Minister.
Here's Congress' seven guarantees in Rajasthan
Gruha Laxmi Guarantee: The Congress government will provide an annual honorarium of Rs 10,000 to the women  heads of the family. The guarantee aims to empower the women and give them financial independence and an opportunity to take better care of their children.

Godhan  Guarantee: The Congress government will provide animal dung for Rs 2 per kg from cattle owners to produce biogas. This scheme is already being implemented in Chhattisgarh and it will be implemented in Rajasthan.

Free Laptop Guarantee: The Congress government will give free laptop/tablets to students studying in the first year of government colleges. The guarantee aims to provide equal opportunity to the children studying in government colleges and put them at par with the affluent once studying in private colleges.

Cheeranjeevi Aapda Bima Guarantee: The Congress government will provide Rs 15 lakh insurance for Cheeranjeevi families if they suffer any loss due to any natural calamity (flood, lighting, drought or storms). The Congress government is already providing Cheeranjeevi Accidental insurance for Rs 10 lakh and Rs 25 lakh Cheeranjeevi  Health insurance. After the launch of this scheme, nearly 80% will get a total insurance cover of Rs 50 lakh.

Free English Medium Education Guarantee: The Congress government will provide free education in English medium to the students studying at the Mahatma Gandhi English Schools. The Guarantee aims to cater to the wishes of parents who want their wards to learn English and increase their chances of employability in the globalized/modern world.

Gas Subsidy Guarantee: The Congress government will provide subsidized gas cylinders at Rs 500 each to more than 1 crore families in the state. The guarantee aims to eliminate use of wood/fossil fuels for cooking and ensure last-mile delivery of gas cylinders to every family in the state.

OPS Guarantee: Old pension scheme to be re-introduced ensuring regular source of income for government employees after retirement.
Rajasthan contest
Rajasthan will go to polls on November 25 while the counting of votes will take place on December 3. Rajasthan has 200 total seats. In Rajasthan – which will see a direct fight between the Congress and the Bharatiya Janata Party on November 25 – anti-incumbency is an important factor. Since 1993, when the BJP came to power after a stint of President's rule, the state has alternated between the Congress and the BJP.
In 2018, Congress won 100 seats in the 2018 Assembly polls. BJP followed at  73 seats while BSP garnered 6 seats. Rashtriya Loktantrik Party (RLP) gathered 3 seats with the Communist Party of India (Marxist) and Bhartiya Tribal Party (BTP) mustering 2 seats each. Rashtriya Lok Dal (RLD) managed to grab just one seat while there were 13 independent candidates in the 2018 Assembly Elections.
(With PTI inputs)
Also Read: Congress leader Vaibhav Gehlot denies involvement in FEMA case following ED appearance
Also Read: Rajasthan: 7 dead, 2 injured after road accident takes place in Hanumangarh