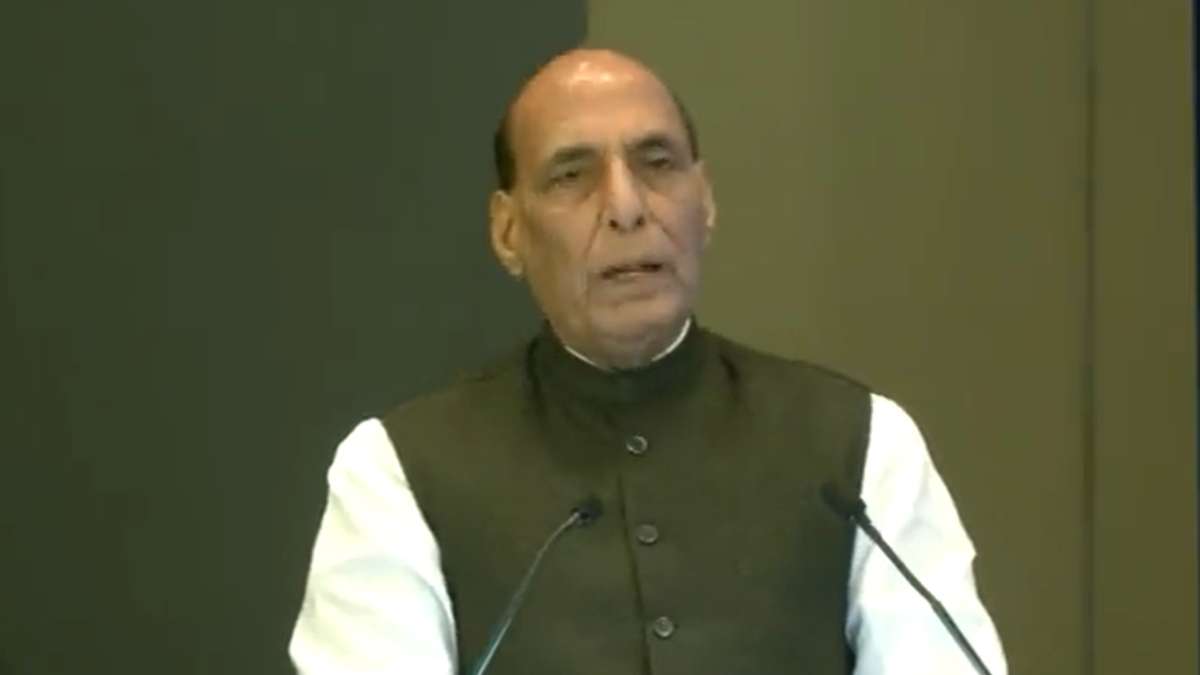 Union Defence Minister Rajnath Singh took a veiled dig at China on Monday by saying that the policy of 'might is right' has no place in maritime order and that countries should collaborate through the means of fair rules of engagement without dominating one another.
In an address at the Goa Maritime Conclave, Singh warned that "narrow immediate interests" may tempt some countries to flout international norms, but doing so will result in the breakdown of civilised maritime relations.
The defence minister suggested that countries should avoid "selfish interests" that threaten the security and prosperity of a region and address common maritime priorities cooperatively by "adherence to international laws and agreements" that must be "our lodestar".
"A free, open and rule-based maritime order is a priority for all of us. 'Might is right' has no place in such a maritime order…Fair rules of engagement are crucial for fostering collaboration and ensuring that no single country dominates others in a hegemonic manner," he said at the event while highlighting the challenges in the Indian Ocean region as well as the Indo-Pacific. 
The three-day Goa Maritime conclave that commenced on Sunday is being attended by representatives, including chiefs of navies and heads of maritime forces, from Comoros, Bangladesh, Indonesia, Madagascar, Malaysia, Maldives, Mauritius, Myanmar, Seychelles, Singapore, Sri Lanka and Thailand.
The theme for the fourth edition of the conclave is 'Maritime Security in the Indian Ocean Region: Converting Common Maritime Priorities into Collaborative Mitigating Frameworks'.
Concerns over China's aggression
India has repeatedly called for an open and inclusive Indo-Pacific region, the biogeographic region, comprising the Indian Ocean and the western and central Pacific Ocean, including the South China Sea, based on international norms.
China claims nearly all of the disputed South China Sea, though Taiwan, the Philippines, Brunei, Malaysia and Vietnam all claim parts of it. Beijing has built artificial islands and military installations in the South China Sea, leading to territorial disputes with Japan and the Philippines. The growing Chinese aggression is also a major reason for US-China tensions.
Several countries in the region are concerned over China's illegal fishing in the Indian Ocean region. In this regard, Rajnath Singh referred to  'Illegal, Unreported and Unregulated' (IUU) fishing as a challenge related to resource over-exploitation.
"IUU fishing endangers ocean ecosystems and sustainable fisheries. It also threatens our economic security and regional and global food security," he said.
Rajnath Singh on climate change and other challenges
Meanwhile, the Union Defence Minister also called for establishing multinational collaborative mitigation frameworks in the Indian Ocean region to effectively tackle common maritime challenges such as climate change, piracy, terrorism, drug trafficking, illegal fishing and freedom of commerce in high seas.
He highlighted the role of the collaborative mitigation framework in reducing carbon emissions and transitioning to sustainable practices, further calling on governments to invest in green economy and share technology and capital with needy countries.
Singh elaborated on the collaborative efforts by explaining the difference between narrow national self-interest and mutual benefit based on the self-interest of all nations.
"The optimal outcome often involves cooperation and building trust among nations, but the fear of being taken advantage of or acting alone in a hostile world can lead to suboptimal decisions," he said at the conclave.
Additionally, Chief of the Naval Staff Admiral R Hari Kumar emphasised the changing nature of threats, both traditional and non-traditional and those emanating from the sea. He said that the conclave offers a valuable opportunity towards developing effective mitigation strategies against such threats, thereby maintaining peace and securing growth in the Indian Ocean Region.
(with PTI inputs)
ALSO READ | Jaishankar meets family members of 8 former Navy officers given death verdict in Qatar