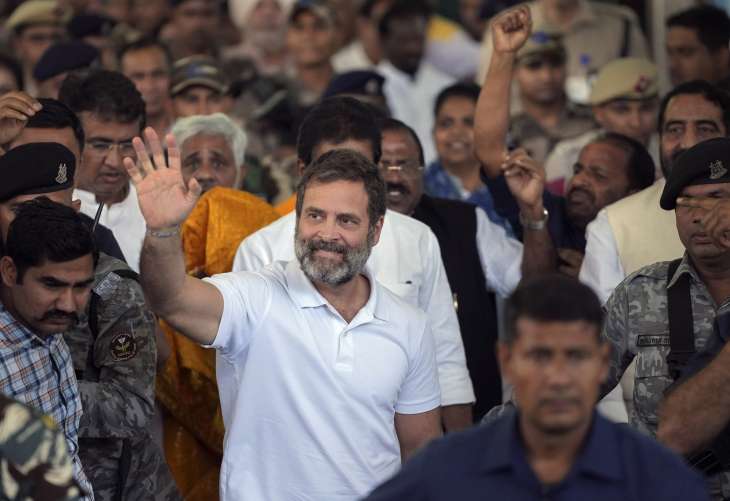 New Delhi: Congress leader Rahul Gandhi in his first reaction after losing his Lok Sabha membership said that he is fighting for the voice of India and he is ready to pay any price for that. "I am fighting for the voice of India. I am ready to pay any price," he said in a tweet.
Rahul Gandhi was disqualified from Lok Sabha today, a day after he was convicted by a Surat court in a 2019 criminal defamation case.
Also Read: Rahul Gandhi disqualified: Will there be by-poll in Wayanad? Lakshadweep MP's case may help Congress leader
Priyanka Gandhi on Rahul Gandhi's disqualification 
Taking strong exception to the disqualification of Rahul Gandhi, Priyanka Gandhi Gandhi Vadra questioned why Parliament didn't take cognisance of the PM 'insulting her whole family and the Kashmiri Pandit community' when Narendra Modi in the House had asked 'why they (Gandhis) don't keep the name Nehru.
"Your sycophants called the son of a martyr prime minister a traitor, Mir Jafar. One of your Chief Minister raised the question that who is the father of Rahul Gandhi? Following the custom of Kashmiri Pandits, a son wears a turban after his father's death, maintaining his family's tradition. Insulting the whole family and the Kashmiri Pandit community, you asked why they don't keep the name Nehru in the full parliament. But no judge gave you a sentence of two years. Did not disqualify you from the Parliament…."
Two-year jail for Rahul
Earlier, The Surat Sessions court awarded a two-year sentence to Rahul Gandhi, however, he was granted bail and 30-day time to appeal against the decision.
"Consequent upon his conviction by the Court of Chief Judicial Magistrate, Surat, Rahul Gandhi, Member of Lok Sabha representing the Wayanad Parliamentary Constituency of Kerala stands disqualified from the membership of Lok Sabha from the date of his conviction i.e.23 March 2023," a notification issued by the Lok Sabha Secretariat stated. 
While the Congress called the decision to disqualify Rahul Gandhi, who represents the Wayanad constituency in Lok Sabha, as political vendetta and vowed to fight the battle both 'legally and politically', the Congress leader had limited options with him.
Also Read: Rahul Gandhi now an ex-MP: What's next for Congress leader
What is the Law
In its judgment dated July 10, 2013, the Supreme Court, while disposing of the Lily Thomas v. Union of India case (along with Lok Prahari v. Union of India), ruled that any Member of Parliament (MP), Member of the Legislative Assembly (MLA) or Member of a Legislative Council (MLC) who is convicted of a crime and given a minimum of two years' imprisonment, loses membership of the House with immediate effect.