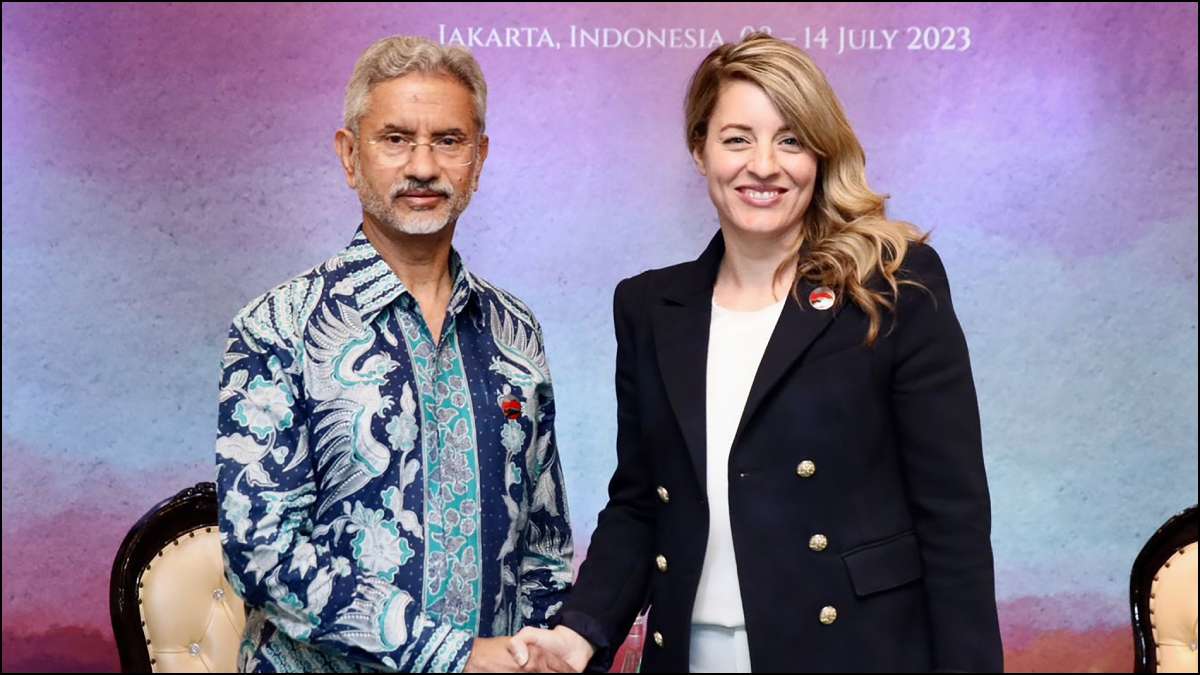 Canadian Foreign Minister Melanie Joly said that Ottawa stands by the "credible allegations" made by Prime Minister Justin Trudeau on India's involvement in the killing of Khalistani terrorist Hardeep Singh Nijjar, days after India resumed visa services in certain fields.
Speaking at the Economic Club of Canada in Toronto on Monday, Joly asserted that Ottawa stands by its decision to inform Canadians about the allegations and said that she was in touch with External Affairs Minister Dr S Jaishankar.
"We stand by the credible allegations…also continuing to engage with India. I've been in contact with the foreign minister Jaishankar and we will continue to do so," she said.
Joly further highlighted that Canada has a long-term approach with India as their relationship has spanned decades. "We all know that we have very strong people-to-people ties with the country. Now when it comes to the Indo-Pacific strategy also, it is important that we engage with many different countries of the region," she said.
"Canada will work to promote respect for international laws and norms. For sovereignty and territorial integrity. Understanding that threats to international security are threats to our shared prosperity," she said in a post on platform X.
India resumes visa services for Canadians
On October 25 (Wednesday), India announced that that it will resume visa services in Canada for four categories – Entry visa, Business visa, Medical visa and Conference visa, amid a major diplomatic row with Canada over Nijjar's killing.
"The High Commission of India in Ottawa, Canada and its Consulates General in Toronto and Vancouver were constrained to suspend visa services temporarily because of safety and security considerations. After a considered review of the security situation that takes into account some recent Canadian measures in this regard, it has been decided to resume visa services for the following categories with effect from October 26, 2023," said a press release on Wednesday.
The move came days after External Affairs Minister S Jaishankar said that India is looking at resuming visa services for Canadians "very soon" if it sees progress in the safety of its diplomats in Canada. The government of India had suspended the visa services for Canadian nationals in September.
Jaishankar had said that the primary reason behind India temporarily stopping the visa services a few weeks ago was the concern over the safety and security of its diplomats in Canada and that Ottawa's inability to provide a secure environment to the Indian officials challenges the most fundamental aspect of the Vienna Convention on Diplomatic Relations.
India-Canada diplomatic row
The tension between the two nations soared to a new low which prompted the expulsion of diplomats from their respective countries. Canadian PM Justion Trudeau had alleged that he has "credible information" about India's link with the killing of Khalistani terrorist Hardeep Singh Nijjar. The Ministry of External Affairs had rejected the claims and said Ottawa did not proffer any "proof" that could ascertain Canadian PM's claim.
The Ministry had asked the Canadian Embassy in New Delhi to minimise the diplomatic presence as it considers Ottawa had many staff whose roles were questionable. Also, New Delhi announced the suspension of visa services for Canadians.
Trudeau had clarified that he was not trying to provoke New Delhi but rather wanted his Indian counterpart to address the issue properly. "The government of India needs to take this matter with the utmost seriousness. We are doing that, we are not looking to provoke or escalate," news agency Reuters quoted the Canadian PM as saying.
(with agency inputs)
ALSO READ | India resumes some visa services in Canada including entry, business and medical
ALSO READ | India-Canada ties going through difficult phase, will resume issuance of visas if…: Jaishankar