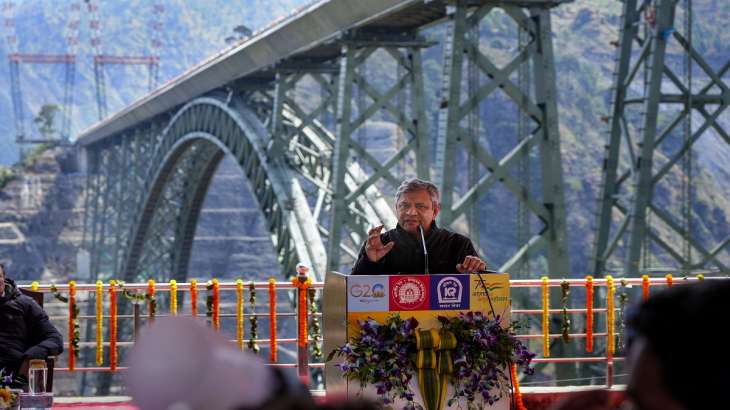 Udhampur-Srinagar-Baramulla train project: Union minister Ashwini Vaishnaw on Sunday visited Chenab Bridge in Kashmir Valley and inspected the ongoing work for the Udhampur-Srinagar-Baramulla railway line project (USBRL). The minister said that the project will be completed by December this year or January 2024.
The Union Minister inspected the first run of a track-mounted trolley on the world's highest arch bridge constructed on the Chenab river and said that the USBRL project will be completed by December this year or January 2024.
The track on the world's highest railway arch-bridge has been built at a height of 359 metres from the Chenab riverbed.
Speaking of future railway plans, the Union Minister said that it has been decided to set up a Vande Bharat Express train maintenance facility at Badgam in the Kashmir Valley and in the first go Vande Bharat Metro will be run between Jammu and Srinagar cities once this important railway link, which will connect the Kashmir Valley with the rest of the country through rail network gets completed.
Railways will run a Vande Bharat Metro train between Jammu and Srinagar in Jammu and Kashmir once the Udhampur-Srinagar-Baramulla Rail Link Project (USBRL) becomes fully operational.
The minister said that the construction of the iconic bridge having a foundation equal to half the football field is a "subject of pride" and it was "difficult challenge of engineering".
Vaishnaw also informed that more than 28,000 metric tonnes of steel has been used for the bridge structure that is built in a highly active seismic zone.
The deck height of the bridge is 359 metres, while its length is 1,315 metres. The arch bridge has 17 spans and the linear length of the main arch span is 460 metres and it is curvilinear, they said.
The world's highest arch bridge will have a codal life of 120 years and can withstand wind speed of 266 kmph.
"We are creating a special training academy in Jammu. Wherever our engineers & technicians require training, they can come to this project and have the training, and other parts of the country can also benefit from this project," Union Minister Ashwini Vaishnaw said.
(With inputs from PTI)
ALSO READ | PM Modi inaugurates Whitefield Metro Line in Bengaluru during his visit to poll-bound Karnataka
ALSO READ | Udhampur-Srinagar-Baramulla Rail Link: Indian Railways makes break-through with 10-km escape tunnel | Photos