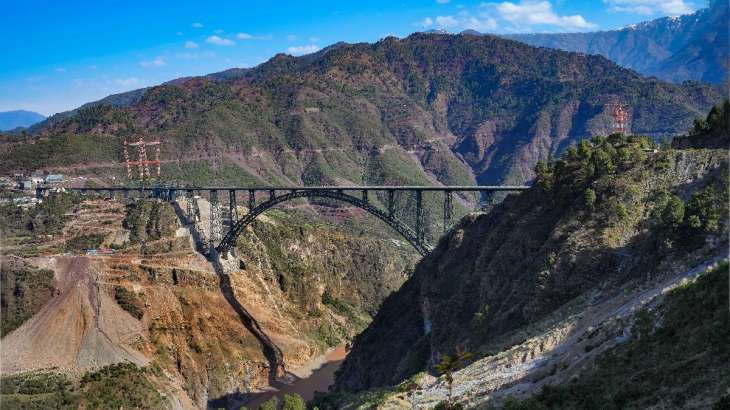 Udhampur-Srinagar-Baramulla Railway Project: The Indian Railways will operate Vande Bharat Metro train between Jammu and Srinagar once the Udhampur-Srinagar-Baramulla Rail Link Project (USBRL) becomes fully operational, said Railway Minister Ashwini Vaishnaw on Sunday.
The Union Minister visited the project site in Kashmir valley to inspect the world's highest arch bridge over the river Chenab on the Udhampur-Srinagar-Baramulla railway line.
Speaking to reporters, Ashwini Vaishnaw said that the Vande Bharat Metro train will be operated between Jammu and Srinagar in Jammu and Kashmir once the Udhampur-Srinagar-Baramulla Rail Link Project (USBRL) becomes fully operational.
The Railways minister inspected the first run of a track-mounted trolley on the world's highest arch bridge.
Vaishnaw also announced that the USBRL project will be completed by December this year or January 2024.
The deck height of the Chenab bridge is 359 metres, while its length is 1,315 metres. The arch bridge has 17 spans and the linear length of the main arch span is 460 metres and it is curvilinear, they said. The codal life of the bridge is 120 years and the bridge can withstand the wind speed of 266 kmph, but the train can cross the bridge at the speed of 100 kmph.
Vande Bharat Metro trains
Akin to Vande Bharat trains, Prime Minister Narendra Modi had asked the Ministry of Railways to come up with "Vande Metro", a train concept to run between two nearby big stations, Ashwini Vaishnaw had said last month.
"Honourable Prime Minister has given the target this year. After the success of Vande Bharat train, (he asked to) develop a new world-class regional train which will be Vande Metro," he said.
The Minister said they are planning to come out of a prototype within the next 12 to 16 months and then roll it out and run it for at least one year.
Explaining the concept of "Vande Metro", Vaishnaw earlier said the trains will be run with high-frequency between two cities which are close to less than 100 km each. According to him, these kinds of trains are called "Regional trans" in Europe.
Railways has plans to run 500 Vande Bharat trains in the next three years.
The concept of Vande Metro train covering a radius of 50-60 kilometers has been included in the country. It is proposed to manufacture 4,500 newly designed automobile carrier coaches with side entry, 5,000 LHB coaches and 58,000 wagons.
(With inputs from PTI)
ALSO READ | Udhampur-Srinagar-Baramulla Rail Link: Indian Railways makes break-through with 10-km escape tunnel | Photos

ALSO READ | Udhampur-Srinagar-Baramulla railway line to be completed by Dec or Jan 2024: Railway Minister