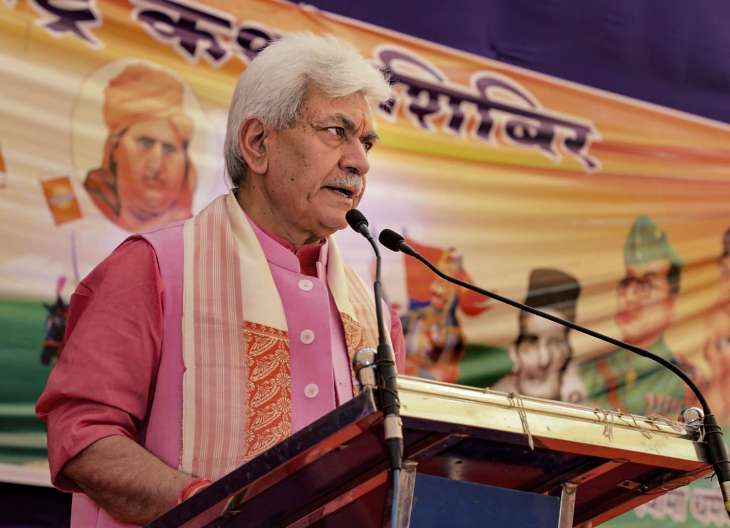 Jammu and Kashmir Lieutenant Governor (L-G) Manoj Sinha, while speaking at ITM Gwalior recently, mentioned Mahatma Gandhi's educational qualification. Sinha said Mahatma Gandhi had no law degree, and that he was a diploma holder in law. The statement invited backlash from several quarters, but it is to be noted that Sinha presented this as an example of how a degree does not determine education. He further asked students to understand the real meaning of education. 
In this context, he said that Mahatma Gandhi did not have a formal university law degree but he was qualified for law practice and who would say that he was not educated? The Jammu and Kashmir L-G was heavily trolled online for his statement. Meanwhile, Mahatma Gandhi's great-grandson Tushar Gandhi made a sharp comment on it through a tweet and sent Mahatma Gandhi's book to Manoj Sinha.
Tushar Gandhi is known for his statements and has an old association with controversies. Tushar has been in the limelight, be it the matter of permission to use Gandhi's image by a foreign credit card company or the allegation of targeting a particular caste in the context of killing Gandhi in a book. Recently, he has even raised the hue and cry of removing PM Modi. 
L-G Manoj Sinha's statement
Gandhi did audit class at University College, London but did not take a law degree. By studying law in Inner Temple and passing its examination, he qualified to practice law, but it was a certificate and there is a difference between a certificate and a university degree. Inner Temple does not give a degree in law, it gives a certificate. 
Throughout the speech, the Lt Governor tried to explain the real purpose of education to the students by telling them about the greatness of Mahatma Gandhi. "Inspirational stories of many people including Gandhi ji to explain the real importance of education instead of just getting a degree," he said.
The certificate awarded to Mahatma Gandhi read, "This is to Certify to whom it may concern That Mohandas Karamchand Gandhi of 20 Barons Court Road, West Kensington, the youngest son of Karamchand Uttamchand Gandhi of Porbander, India deceased, was generally admitted of The Honourable Society of the Inner Temple on the sixth day of November One thousand eight hundred and eighty eight and was called to the Bar by the same Society on the tenth day of June One thousand eight hundred and ninety one and has paid all duties to the House and to the Officers thereunto belonging."
ALSO READ | 'Satya mera bhagwan…': Rahul Gandhi invokes Mahatma Gandhi after conviction in 'Modi surname' case
ALSO READ | 'I recall his profound thoughts…': PM Modi remembers Mahatma Gandhi on his 75th death anniversary