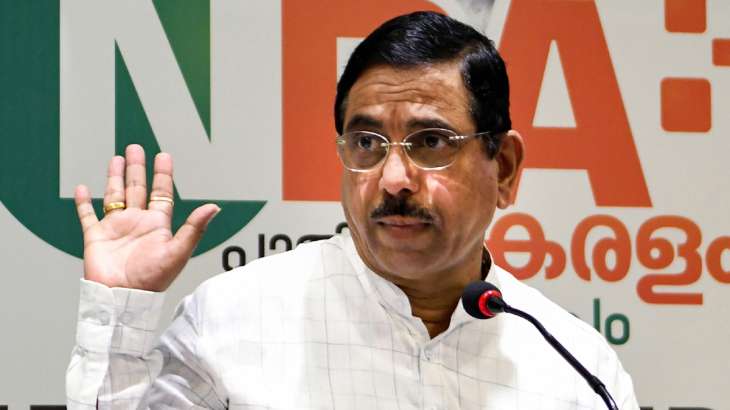 Parliamentary Affairs Minister Pralhad Joshi responded to Congress leader Sonia Gandhi's letter addressed to Prime Minister Narendra Modi. In a letter addressed to Gandhi, he said that it is unfortunate that she is trying to politicize the functioning of Parliament, the temple of our democracy and create unnecessary controversy where there is none.
The letter further stated, "As you are aware, Parliament sessions are held regularly in compliance with the constitutional mandate under Article 85, which provides that the President may, from time to time, convene each House of Parliament at such time and place as he thinks fit. Shall convene a meeting, but there shall not be an interval of six months between its last meeting in one session and the date fixed for its first meeting in the next session".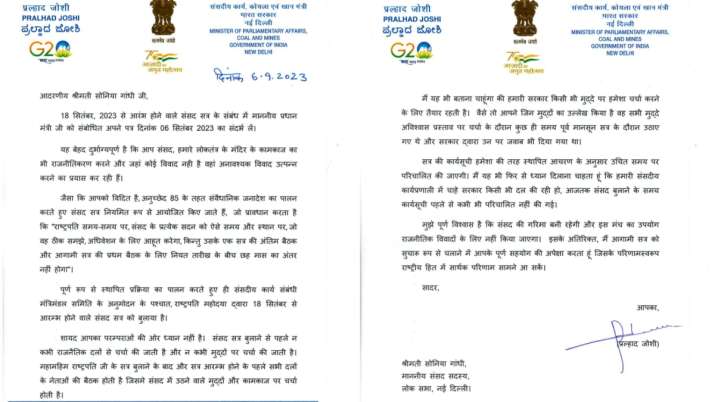 The letter further said, "I would also like to say that our government is always ready to discuss any issue. By the way, all the issues which you have mentioned were raised during the discussion on the no-confidence motion during the monsoon session shortly before and the government had also responded to them." He wrote in the letter, "The agenda of the session will, as usual, be circulated at the appropriate time as per established practice. I would also like to point out again that in our parliamentary functioning, irrespective of which party is in government, till date the agenda has never been circulated in advance at the time of convening the Parliament."
Joshi further said, "I have full confidence that the dignity of Parliament will be maintained and this platform will not be used for political disputes. Additionally, I look forward to your full cooperation in running the upcoming session smoothly resulting in meaningful results in the national interest." 
Sonia Gandhi writes to PM Modi 
Earlier, Congress leader Sonia Gandhi on Wednesday wrote to Prime Minister Narendra Modi to point out that no agenda was listed for the special Parliament session and to raise nine issues, including violence in Manipur and price rise, for discussion during it.
The issues listed by Gandhi include Centre-state relations, rise in cases of communal tension, border transgressions by China and the demand for a joint parliamentary committee (JPC) to investigate the transactions of the Adani business group in light of several revelations.
Govt calls a special session of Parliament
Earlier, the government announced a 'special session' of Parliament for five days between September 18 and 22 but kept the agenda for it under wraps, triggering speculation. "Special Session of Parliament (13th Session of 17th Lok Sabha and 261st Session of Rajya Sabha) is being called from 18th to 22nd September having five sittings.

Amid Amrit Kaal, looking forward to having fruitful discussions and debate in Parliament," Parliamentary Affairs Minister Pralhad Joshi said on X.
It will be the first such special session under the nine years of the Prime Minister Narendra Modi-led government which had convened a special joint sitting of Lok Sabha and Rajya Sabha to mark the midnight GST roll-out on June 30, 2017.
ALSO READ | Parliament special session: Sonia Gandhi writes to PM Modi highlighting 'nine key issues' | DETAILS
ALSO READ | Congress leader Sonia Gandhi admitted to hospital due to fever, condition stable